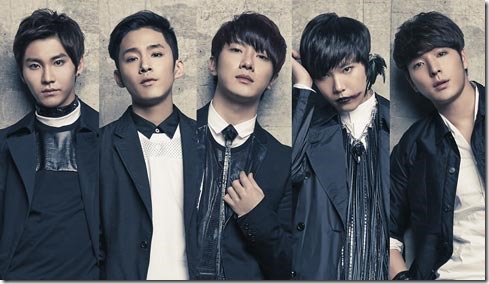 FTISLAND recently announced new Japanese album NEW PAGE that includes singles Shiawase Theory, beautiful, and newest Mitaiken Future plus new lead song BE FREE and more for 13 total tracks. Album NEW PAGE comes on four editions scheduled for release on May 28th 2014 – read on for more details….
~ updated details and MV for BE FREE unveiled ~
Korean rock band FTISLAND most recently released 13th Japanese single Mitaiken Future (未体験 Future) on April 2nd 2014 (more details). Fans showed their support pushing the single to #5 on the Oricon weekly chart.
Upcoming arena tour tied to new album, FTISLAND ARENA TOUR 2014 ~ The Passion ~ with 7 performances planned,
– June 3rd & 4th 2014 Saitama Super Arena
– June 16th & 17th 2014 Osaka Castle Hall
– June 21st & 22nd 2014 NGK Hall Nagoya
– June 25th 2014 Marine Messe Fukuoka
Their 4th Japanese album NEW PAGE comes on four editions (details subject to change). Limited A edition includes 44-page photo booklet, 16-page lyrics booklet, and deluxe packaging. Regular edition includes bonus CD track and its First Press version adds trading card (1 of 6). All editions include a specific type serial code and additional serial code.
Purchasers of any 3 editions can submit the edition specific serial codes for awards lottery,
– 5 people front row premium tickets for each FTISLAND ARENA TOUR 2014 event
– 40 people tour rehearsal access each day (schedule above).
Purchasers of any edition can submit additional serial code for tour send-off meetings,
– 50 people each day invited to official send-off meetings (June 3rd, 16th, 21st, and 25th)
Awards lottery submission May 27th 2014 – June 2 2014
Jacket covers and more will be updated when announced. Watch the music video fro single Mitaiken Future below the release details.
FTISLAND – NEW PAGE – release date May 28th 2014
Limited A [CD+DVD] (¥4500)


Limited B [CD+DVD] (¥3800)


[CD]
1. BE FREE
2. Arigato
3. Mitaiken Future
4. DESTINY
5. Find the way
6. EYES ON ME
7. beautiful
8. Shinin'On
9. BORN TO BE A ROCK'N ROLLER
10. Morning Coffee
11. Last Love Son
12. On My Way
13. Shiawase Theory
[DVD]
1. BE FREE (music video)
2. Making-of music video
3. BE FREE Shooting of solo cut each member
[CD]
1. BE FREE
2. Arigato
3. Mitaiken Future
4. DESTINY
5. Find the way
6. EYES ON ME
7. beautiful
8. Shinin'On
9. BORN TO BE A ROCK'N ROLLER
10. Morning Coffee
11. Last Love Son
12. On My Way
13. Shiawase Theory
[DVD]
1. SUMMER SONIC 2013 (Last Part)
  – Black Chocolate
  – Revolution
  – Flower Rock
2. Documentary footage
Regular [CD] (¥3000)


Primadonna fanclub [CD+DVD] (¥3500)

[CD]
1. BE FREE
2. Arigato
3. Mitaiken Future
4. DESTINY
5. Find the way
6. EYES ON ME
7. beautiful
8. Shinin'On
9. BORN TO BE A ROCK'N ROLLER
10. Morning Coffee
11. Last Love Son
12. On My Way
13. Shiawase Theory
14. Precious one (bonus)
[CD]
1. BE FREE
2. Arigato
3. Mitaiken Future
4. DESTINY
5. Find the way
6. EYES ON ME
7. beautiful
8. Shinin'On
9. BORN TO BE A ROCK'N ROLLER
10. Morning Coffee
11. Last Love Son
12. On My Way
13. Shiawase Theory
[DVD]
1. Members interview NEW PAGE
2. Making-of BE FREE music video special
FTISLAND Official website (Japan)