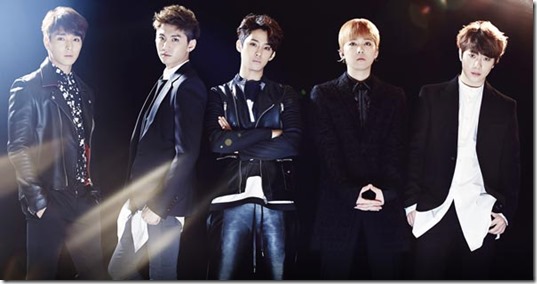 FTISLAND revealed more details for upcoming Japanese single To The Light – full track list, jacket covers, and bonuses unveiled. The Korean band's 14th Japanese single comes on four editions with the Limited's DVD containing live concert performances from their recently completed ARENA TOUR 2014 – The Passion. Single To The Light hits stores October 15th 2014 – more details follow.
The band will also release a live Blu-ray & DVD capturing their FTISLAND ARENA TOUR 2014 – The Passion event held June 22nd 2014 at NGK Hall Nagoya. The release comes on Blu-ray or DVD with 22 song set list and behind-the-scenes documentary footage. The live release hits stores simultaneous with their new single on October 15th 2014.
Most recently the Korean rock band released 4th Japanese album NEW PAGE that includes singles Shiawase Theory, beautiful, and Mitaiken Future plus new lead song BE FREE and more for 13 total tracks. The album  released May 28th 2014 and climbed to #6 on the weekly Oricon album charts.
Single To The Light comes on three editions plus a fanclub version. Regular First Press includes trading card (1 of 6). The Limited, Regular First Press, and fanclub editions each include a different serial code for awards. Fans submitting 3 of the 4 different codes are eligible for awards lottery,
– 15 persons win a ticket to one of three FTISLAND AUTUMN TOUR 2014 To The Light concert events. Five winners for each target events:  November 1st or 2nd 2014 ORIX Theater Osaka or November 24th 2014 Yokohama Arena.
– 600 persons win access to venue rehearsal performances to one of the three events listed above (200 per event).
Fans submitting any 1 of the 4 codes awards lottery,
– 5 persons receive autographed tour goods.
– 5 persons receive autographed members photograph.
FTISLAND – To The Light – release date October 15th 2014
Limited A [CD+DVD] (¥2000)


Limited B [CD+DVD] (¥2000)


[CD]
1. To The Light
2. Tornado
3. FISH
4. Tornado (off vocal)
[DVD]
1. To The Light (music video)
2. making-of music video documentary
3. ARENA TOUR 2014 – The Passion – live digest
– BE FREE (live, multi-angle)
– Morning Coffee (live, multi-angle)
[CD]
1. To The Light
2. Tornado
3. FISH
4. FISH (off vocal)
[DVD]
1. ARENA TOUR 2014 – The Passion – live digest
– Mitaiken Future (live, multi-angle)
– DESTINY (live, multi-angle)
– Arigato (live, multi-angle)
Regular [CD] (¥1200)


Primadonna fanclub [CD+DVD] (¥2000)

[CD]
1. To The Light
2. Tornado
3. FISH
4. To The Light (off vocal)
[CD]
1. To The Light
2. Tornado
3. FISH
4. To The Light (off vocal)
[DVD]
1. Live & Digest from Official Fan meeting 2014
Arena Tour 2014 THE PASSION [BD] (¥5800)


Arena Tour 2014 THE PASSION [DVD] (¥4800)


FTISLAND Official website (Japan)
FTISLAND at Warner Music Japan