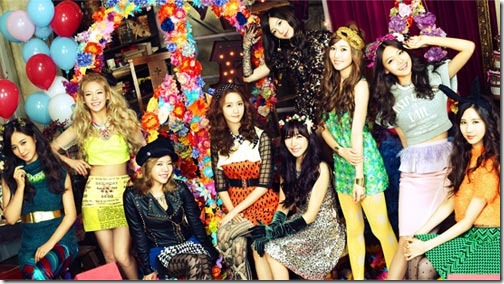 GIRLS' GENERATION (SNSD) has announced a Japanese greatest hits album THE BEST scheduled for release on July 23rd 2014. Details are limited but its planned to include a new Japanese song and clip digest of activities in Japan since 2010.  No pre-order yet for their greatest hits album – more information coming. Read on for additional GIRLS' GENERATION info…
~ Details revealed plus pre-order open ~
Most recently in Japan GIRLS' GENERATION released 3rd album LOVE & PEACE on December 11th 2013. The album includes new song My oh My, singles GALAXY SUPERNOVA, LOVE & GIRLS, plus more new songs for 12 total tracks. Album LOVE & PEACE hit #1 on the weekly Oricon charts.
In Korea Girls Generation released 4th mini album Mr.Mr. in February 2014. The full music video (Dance ver.) with over 22 million views follows below.
The group currently is in the middle of a national tour – GIRLS' GENERATION 〜LOVE & PEACE 〜 Japan 3rd Tour 2014 that began April 26th 2014 and hits 7 venues with 17 performances,
– April 26th, 27th 2014 Marine Messe Fukuoka
– May 6th, 7th 2014 Green Arena Hiroshima
– May 23rd, 24th, 25th 2014 World Hall Kobe
– June 5th, 6th 2014 Rainbow Hall Nagoya
– June 19th, 20th, 21st 2014 Osakajo Hall Osaka
– June 28th, 29th 2014 Super Arena Saitama
– July 11th, 12th, 13th 2014 National Stadium Yoyogi
GIRLS' GENERATION – THE BEST – release date July 23rd 2014 : More details coming!
Girls Generation official Japanese website
Girls Generation at Universal Music Japan