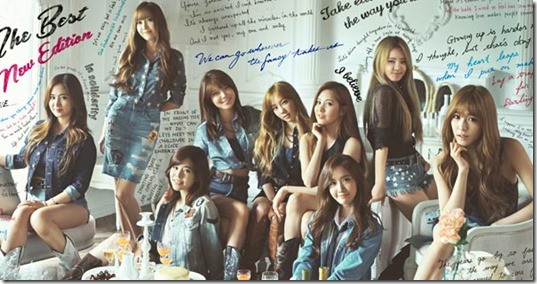 GIRLS' GENERATION (SNSD) revealed a re-release of their Japanese greatest hits album THE BEST with updated track list including two new songs. Limited New Edition also includes bonus goods and more for SNSD fans. Album THE BEST New Edition and Standard Edition hit stores October 15th 2014 – more details and PV follow.
Album THE BEST originally released July 23rd 2014 (more details) and spent two weeks on the top of the Oricon album charts.
The new release comes on two special editions (details subject to change). Both editions have different track list with new songs and some previously available only as limited distribution songs. The Limited comes in deluxe packaging and includes DVD with new music videos and documentary footage. Also includes 32-page photo booklet with new images and bonus earphone jack member figures – 9 different.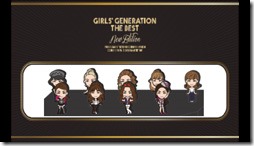 The Standard Edition has reduced track list with one new song. Includes bonus trading card.
A "lyrics" music video for Indestructible after the release details.
Girls Generation – THE BEST ~ New Edition ~ – release date October 15th 2014
Limited New Edition [CD+DVD+Goods] (¥8000)


Regular Standard Edition [CD] (¥1850)


[CD]

1. GENIE
2. Gee
3. MR. TAXI
4. Oh! 
5. Run Devil Run
6. HOOT
7. THE BOYS
8. PAPARAZZI 
9. FLOWER POWER 
10. LOVE & GIRLS 
11. GALAXY SUPERNOVA 
12. Mr.Mr. (Japanese ver.)
13. Chain Reaction (new)
14. Indestructible
15. (untitled) (new)
16. Show Girls (unreleased song)

[DVD]
1. (untitled) music video
2. Indestructible (music video)
3. Making of music video
4. Jacket cover photo shoot documentary

[CD]

1. GENIE
2. Gee
3. MR. TAXI
4. PAPARAZZI
5. Oh!
6. FLOWER POWER
7. LOVE & GIRLS
8. GALAXY SUPERNOVA
9. Indestructible
10. (untitled) (new)
Girls Generation official Japanese website
Girls Generation at Universal Music Japan
Girls Generation Facebook page