November 13, 2014
-
toyNN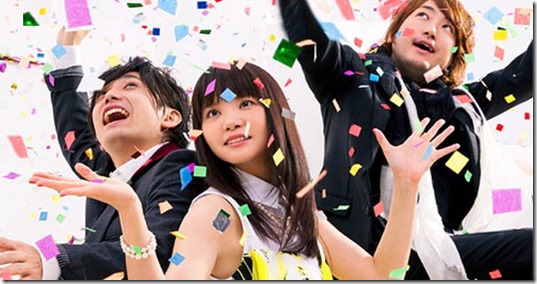 Ikimonogakari (いきものがかり) announced their 7th original album FUN! FUN! FANFARE! that includes singles and coupling songs plus new songs for 14 total tracks (planned). New songs include Kirari (キラリ) that will be featured as the theme song for live-action adaption of Blue Spring Ride. Album FUN! FUN! FANFARE! comes on two editions releasing December 24th 2014 – read on for more details and album promo video.
Ikimonogakari has just released 29th single GOLDEN GIRL on November 12th 2014 (more details). The single has tie-up as the theme song for TBS TV drama Onna wa sore o Yurusanai (Women won't allow it).
The group is in the middle of 3 months of consecutive releases with their 28th single Netsujo no Spectrum /Namida ga Kierunara  (熱情のスペクトラム /  涙がきえるなら) releasing last month on October 15th 2014. Track Netsujo no Spectrum has tie-up as opening theme for popular new anime The Seven Deadly Sins (Nanatsu no Taizai). The single also features track Namida ga Kierunara with tie-up as ending theme for TBS TV series NEWS23 since March 31st 2014.
The album also includes 27th single Love Song ha Tomaranaiyo (ラブソングはとまらないよ) that released July 9th 2014. The title song has tie-up with Calpis Water TV CM campaign that stars Notoshi Reina and coupling track Niji (虹) has tie-up as theme for Yamazaki Lunch Pack CM campaign.
Album FUN! FUN! FANFARE! comes on two editions (details subject to change). Limited edition includes deluxe 3-way case, extra jacket cover, 2015 tour priority ticket application, mini-poster set (3), and ikimono-card 044. The Regular First Press version includes ikimono-card 044 and 2015 tour priority ticket application.
Full track list and more details coming! Watch album announcement video from members and trailer for Blue Spring Ride the movie after the release details.
Ikimonogakari – FUN! FUN! FANFARE! – release date December 24th 2014
Limited [CD+DVD] (¥3333)


Regular [CD] (¥2913)


[CD]
1. Love Song ha Tomaranaiyo 
2. Niji
3. Netsujo no Spectrum
4. Namida ga Kierunara
5. GOLDEN GIRL
6. Jump! (Nissan Serena TVCM theme)
7. Kirari
8. – 14. undecided
[DVD]
1. NEWS123 variety reports special
[CD]
1. Love Song ha Tomaranaiyo 
2. Niji
3. Netsujo no Spectrum
4. Namida ga Kierunara
5. GOLDEN GIRL
6. Jump!
7. Kirari
8. – 14. undecided
Ikimonogakari Official website