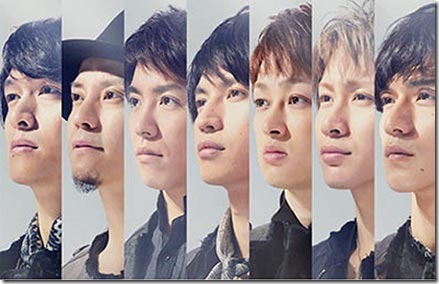 KANJANI8 is getting ready to release single Hibiki (ひびき) with tie-up as then theme song for TBS TV drama series Dr. DMAT staring member Tadayoshi Okura. It's the group's 24th single and 2nd of their 3-month consecutive release plan. Single Hibiki comes on two editions hitting stores January 15th 2014 – read on for all the details.
Most recently KANJANI8 released their 23rd single Kokoro Sora Moyo ( ココロ空モヨウ) with tie-up as theme song for Fuji TV drama Yorozu Uranaidokoro Onmyoya e Yokoso staring member Ryo Nishikido and Kashiwagi Yuki (AKB48). Single Kokoro Sora Moyo hit stores December 4th 2013 and fans give the group another #1 single on the Oricon weekly charts.
KANJANI8 has planned for 3 consecutive months of single releases (23rd, 24th, and 25th) that started with single Kokoro Sora Moyo and continues with single Hibiki. Their 25th single, planned for February 19th 2014 is now titled, King of Otoko! and its featured as the theme song for movie The Mole Song: Undercover Agent Reiji (Mogura no Uta Sennuu Sosakan REIJI). More details will be available for single King of Otoko! after the release of Hibiki.
In connection with their 7th album JUKE BOX, KANJANI8 launched a fall/winter tour, LIVE TOUR JUKE BOX. The tour launched November 8th, with the first of three concerts at Tokyo Dome. Overall the tour hits 5 dome venues with 12 planned performances. More details at their official website (links below),
– November 8th, 9th, & 10th 2013 Tokyo Dome
– December 14th 2013 Sapporo Dome
– December 21st, 22nd, & 23rd 2013 Nagoya Dome
– January 1st & 2nd 2014 Fukuoka Dome
– January 17th, 18th, & 19th 2014 Osaka Dome
KANJANI8's 24th single Hibiki comes on two editions,
– Limited with DVD that includes music video and making-of footage for title track. Deluxe packaging and 3-consecutive release entry ticket.
– Regular CD-only with bonus coupling track and three Karaoke tracks. First Press adds the 3-consecutive release entry ticket.
Additional bonus for purchasers of both editions (same time, same store, online excluded) of member solo-shot Hibiki jacket covers (all 7).
Fans submitting the entry tickets from all three of the consecutive releases: Kokoro Sora Moyo (2013.12.04), this single, and upcoming single King of Otoko! (2014.02.19) will be part of a ticket lottery for special KANJANI8 meeting 2014 events planned for Tokyo and Osaka.
KANJANI8 – Hibiki (ひびき) – release date January 15th 2014
Limited [CD+DVD] (¥1470)


Regular [CD] (¥1000)


[CD]
1. Hibiki
2. Winter pop
[DVD]
1. Hibiki (music video)
2. Hibiki (making-of music video footage)
[CD]
1. Hibiki
2. Winter pop
3. Frozen Margarita
4. Hibiki (off vocal)
5. Winter pop (off vocal)
6. Frozen Margarita (off vocal)
KANJANI8 Official website (Teichiku records)
KANJANI8 Official website (Johnny's net)