November 29, 2014
-
toyNN
KAT-TUN announced new single Dead or Alive with tie-up as the theme song for movie JOKER GAME staring member Kazuya Kamenashi. Their 23rd single also features a Kazuya Kamenashi solo song Hanasanaide Ai written by Tsuyoshi Domoto. Single Dead or Alive comes on three editions scheduled for release on January 21st 2015 – read on for more details and movie trailer featuring the theme song.
~ jacket covers and more unveiled ~
Vocal group KAT-TUN most recently released 8th album come Here on June 25th 2014. Fans showed their support giving the popular vocal group a #1 on the Oricon charts with over 75,000 copies sold opening week.
Movie JOKER GAME, based on a novel by Yanagi Koji, follows soldier Kato (Kazuya Kamenashi) and set at the eve of World War II as an international city "Devil's Metropolis" becomes the hub of a high-stakes spy game. Recruited by Colonel Yuuki who heads the Japanese intelligence agency D Kikan, a rebellious Kato endures rigorous training before he receives his first mission to infiltrate the city and capture the critical "black notebook" from U.S. Ambassador Graham. Spies from other countries such as the UK, the Soviet Union, and Germany doing everything in their power to gain an advantage in world diplomacy.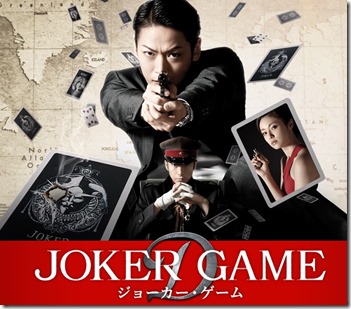 The movie premieres in theaters across Japan January 31, 2015.
Single Dead or Alive comes on three editions plus most stores offer a bundled set of all three (details subject to change). Limited A includes lyrics booklet. Each edition has different coupling tracks with Limited B featuring the Kazuya Kamenashi solo song Hanasanaide Ai plus music video.
Jacket covers, full track list, and more details coming! New trailer for movie JOKER GAME featuring theme song Dead or Alive (1:00) after release details.
KAT-TUN – Dead or Alive – release date January 21st 2015
Limited A [CD+DVD] (¥1300)


Limited B [CD+DVD] (¥1300)


[CD]
1. Dead or Alive
2. untitled A
3. untitled A (off vocal)
[DVD]
1. Dead or Alive (music video)
2. Dead or Alive (making-of music video)
[CD]
1. Dead or Alive
2. Hanasanaide Ai (Kazuya Kamenashi solo) 
lyrics: Tsuyoshi Domoto  
[DVD]
1. Hanasanaide Ai (music video)
Regular [CD] (¥1000)
<

Bundled set of 3 editions (¥3600)


[CD]
1. Dead or Alive
2. untitled B
3. untitled C
4. Dead or Alive (off vocal)
5. untitled B (off vocal)
6. untitled C (off vocal) 
[DVD]
 
KAT-TUN Official website (Johnny's net)