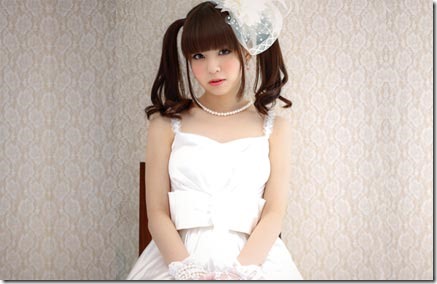 Luna Haruna has announced her 6th single Startear with tie-up as the ending theme for upcoming anime Sword Art Online II Phantom Bullet (SAO II). Previously she provided ED2 for the first season of popular anime Sword Art Online with her 2nd single Overfly (2012.11.28) . Single Startear comes on three editions releasing August 20th 2014 – more early details and new PV for the anime follow…
~ new PV revealed featuring Startear ~
Most recently singer and model Luna Haruna released her 5th single snowdrop on December 11th 2013. The single and additional version snowdrop (Luna Haruna x Marina Kawano ver.) are featured as ending themes for anime series Monogatari Series Second Season.
The second anime adaption of Sword Art Online (SAO II Phantom Bullet) from light novels by Reki Kawahara (illustrated by abec) start with novels 5 & 6 set in the Gun Gale Online game world where guns are the main focus. In the novels the game becomes highly competitive bringing in professionals who can earn money that can be exchanged for real world currency.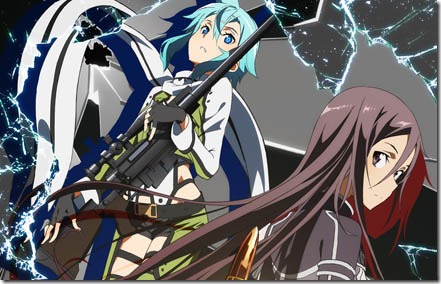 SAO II is set to air starting July 5th 2014 on Tokyo MX in Japan. Outside of Japan the first season of SAO and SAO EXTRA EDITION simulcast on provider Crunchyroll so hopefully they will carry SAO II Phantom Bullet but not officially announced. Check our Crunchyroll updates page or hit the link for Sword Art Online for episode links and related stories.
Aoi Eir provides the opening theme with single IGNITE (more details).
Single Startear comes on three editions (details subject to change). Limited Pressing anime has illustrated jacket and available through September 2014. Information on jacket covers, full track list, and more coming – follow Comtrya Sugoi for updates.
New teaser trailer for SAO II Phantom Bullet below the release details.
Luna Haruna – Startear – release date August 20th 2014
Limited [CD+DVD] (¥1600)


Limited Pressing "anime" [CD+DVD] (¥1600)


[CD]
1. Startear
2. undecided
3. Startear (off vocal)
4. undecided
[DVD]
1. Startear (music video)
[CD]
1. Startear
2. undecided
3. Startear (TV size)
4. undecided
[DVD]
1. undecided
Regular [CD] (¥1300)


 
[CD]
1. Startear
2. undecided
3. Startear (off vocal)
4. undecided
 
Sword Art Online Phantom Bullet
Sword Art Online (USA)