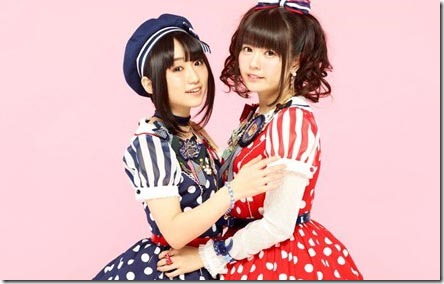 Unit petit milady revealed details for new single Koi wa Milk Tea (恋はみるくてぃ) with tie-up as the ending theme for upcoming anime Invaders of the Rokujyouma!? (Rokujyoma no Shinryakusha!?, 六畳間の侵略者!?). petit milady members Aoi Yuki and Ayana Taketatsu also voice featured characters in the romantic-comedy anime. Their 3rd single Koi wa Milk Tea comes on two editions releasing August 13th 2014 – more details and previews follow…
~ jacket covers and teaser PV revealed ~
Most recently petit milday released their first album first album Petitmiladear on April 30th 2014. Member Aoi Yuki released single Cupid de Review (クピドゥレビュー) also on April 30th 2014 (delayed from original release date April 23rd 2014). The singer and voice actor's 2nd solo has been featured as the opening theme for anime Kanojo ga Flag wo Oraretara (彼女がフラグをおられたら). Other member and fellow singer and voice actor Ayana Taketatsu released her 5th solo single Wonderful World on June 5th 2014.
Anime Invaders of the Rokujyouma!? (Rokujyoma no Shinryakusha!?, 六畳間の侵略者!?) is adapted from romantic-comedy light novel series by Takehaya and follows high school student Satomi Kotarou who has started living by himself in an inexpensive six-mat or rokujyouma room. As he begins a new life here some unexpected roommates begin to appear.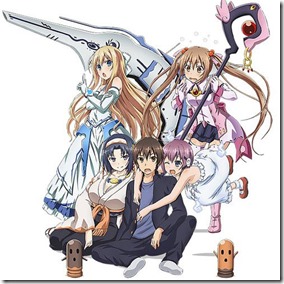 The anime cast includes Nakamura Yuichi (Satomi), Aoi Yuki (Korama), and Ayana Taketatsu (Karama). It begins airing July 11th 2014 on Tokyo MX in Japan and has been licensed by Sentai Filmworks so it should be simulcast at provider Crunchyroll (not officially announced). Get all the recent anime episodes on our Crunchyroll updates page or hit the link for Invaders of the Rokujyouma!? for episodes and related stories.
Single Koi wa Milk Tea comes on two editions (details subject to change). Jacket covers and more details coming – follow Comtrya Sugoi for updates.
Anime Invaders of the Rokujyouma!? preview and music video preview for Ma Cherie included on petit milady's first album follow below the release details.
petit milady – Koi wa Milk Tea (恋はみるくてぃ) – release date August 13th 2014
Limited [CD+DVD] (¥1800


Regular [CD] (¥1200)


1. Koi wa Milk Tea
2. Apple Pie a la Mode
3. Koi wa Milk Tea (off vocal)
4. Apple Pie a la Mode (off vocal)
5. Koi wa Milk Tea (vocal only)
[DVD]
1. Koi wa Milk Tea (music video)
1. Koi wa Milk Tea
2. Apple Pie a la Mode
3. Koi wa Milk Tea (off vocal)
4. Apple Pie a la Mode (off vocal)
5. Koi wa Milk Tea (vocal only)
Ma Cherie album Petitmiladydear lead song PV
Ayana Taketatsu Official website
Aoi Yuki Official website (JVC Music)
petit milady Universal Music site