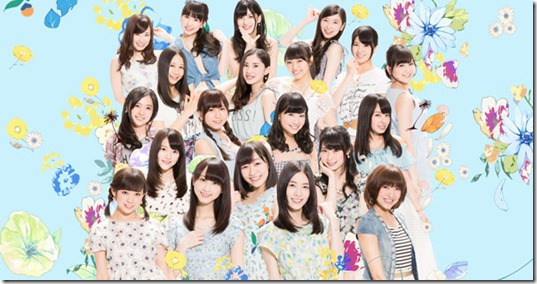 SKE48 has just celebrated its 6th anniversary and announced their 16th single – untitled – for release on December 10th 2014. The new single comes on 4 pairs of edition plus a theater version. Read on for more early details and promo announcement video.
~ Jyuunigatsu no Kangaroo (12月のカンガルー, December no Kangaroo) updated! ~
The AKB48 sister group also announced their first group documentary video – DOCUMENTARY of SKE48 -  for release in 2015. The documentary will chronicle the birth of the first sister group with a then 11-year old Matsui Jurina as center through their current activities as members beyond Matsui Jurina and Matsui Rena are voted into the Senbatsu Sousenkyo. Promo video below and more details at special site (link below).
Details are still early for their 16th single and bonus details aren't final but the Limited editions will add an event ticket and a photo that varies by edition and store of purchase.
Most recently SKE48 released single Bukiyou Taiyou (不器用太陽) on July 30th 2014. Fans snapped it up with over 324,000 copies sold opening week giving the group their 11th #1 single in a row. The single included a voting ticket for their upcoming SKE48 Request Hour 2014 scheduled for November 1st & 2nd 2014 at Nagoya Century Hall.
More details are coming for SKE48's 16th single – full track list, jacket covers, and more! Promo video for the release as well as one for the DOCUMENTARY of SKE48 after the release grid.
SKE48 – 16th single (untitled) – release date December 10th 2014
Limited A [CD+DVD] (¥1524)


Regular A [CD+DVD] (¥1524)


[CD]
contents type-A undecided
[DVD]
contents type-A undecided
[CD]
contents type-A undecided
[DVD]
contents type-A undecided
Limited B [CD+DVD] (¥1524)


Regular B [CD+DVD] (¥1524)


[CD]
contents type-B undecided
[DVD]
contents type-B undecided
[CD]
contents type-B undecided
[DVD]
contents type-B undecided
Limited C [CD+DVD] (¥1524)


Regular C [CD+DVD] (¥1524)


[CD]
contents type-C undecided
[DVD]
contents type-C undecided
[CD]
contents type-C undecided
[DVD]
contents type-C undecided
Limited D [CD+DVD] (¥1524)


Regular D [CD+DVD] (¥1524)


[CD]
contents type-D undecided
[DVD]
contents type-D undecided
[CD]
contents type-D undecided
[DVD]
contents type-D undecided
Theater [CD] (¥1000)

 
Documentary of SKE48 special site