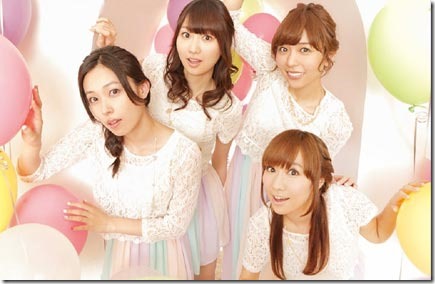 Sphere updated their new album 4 colors for you – jacket covers revealed. The new album includes new lead song NEVER ENDING PARTY!!!! plus singles and more for 13 total tracks planned. Album 4 colors for you comes on three editions hitting stores June 25th 2014 – updated details follow…
~ full track list, audio PV revealed ~
Unit Sphere consists of popular voice actresses (seiyuu) Aki Toyosaki, Ayahi Takagaki, Haruka Tomatsu, and Minako Kotobuki. They recently released 15th single Kasuka na Hisoka na Tashika na Mirai (微かな密かな確かなミライ) on May 14th 2014. The single has tie-up as the ending theme for anime Nanana's Buried Treasure.
In addition to their activities with Sphere and anime voice acting each member has solo projects. Member Aki Toyosaki is releasing her 11th single July 9th 2014, Minako Kotobuki released her 7th single Believe x on April 16th 2014, and Ayahi Takagaki just released her 7th single Kaze ni Naru on May 28th 2014.
Album 4 colors for you comes on three editions (details subject to change). Limited A includes deluxe Happiness Present Box with photo booklet, balloons, bookmark, key chain, and hand-towel (samples below). Both Limited editions and First Press Regular edition include application ticket (no details yet).
Selected stores offer special Sphere photo card, image varies by store and check for availability (Tower Records and Gamers samples below).
Track list details coming – follow Comtrya Sugoi for updates.
Sphere – 4 colors for you – release date June 25th 2014
Limited A [CD+DVD] (¥7800)


Limited B [CD+DVD] (¥3800)


[CD]
1. Pride on Everyday
2. GENESIS ARIA
3. Sticking Places
4. Eternal Tours
5. Kasuka na Hisoka na Tashika na Mirai
6. NEVER ENDING PARTY!!!! 
7. – 13. undecided
[DVD]
1. NEVER ENDING PARTY!!!! (music video)
2. making-of music video
3. Kasuka na Hisoka na Tashika na Mirai (making-of music video)
4. 5th Anniversary at Nippon Budokan live footage digest
[CD]
1. Pride on Everyday
2. GENESIS ARIA
3. Sticking Places
4. Eternal Tours
5. Kasuka na Hisoka na Tashika na Mirai
6. NEVER ENDING PARTY!!!! 
7. – 13. undecided
[DVD]
1. NEVER ENDING PARTY!!!! (music video)
2. making-of music video
Regular [CD] (¥3000)


 
[CD]
1. Pride on Everyday
2. GENESIS ARIA
3. Sticking Places
4. Eternal Tours
5. Kasuka na Hisoka na Tashika na Mirai
6. NEVER ENDING PARTY!!!! 
7. – 13. undecided
 
Sphere Official website (Planet Sphere)
Haruka Tomatsu Official website
Ayahi Takagaki Official website