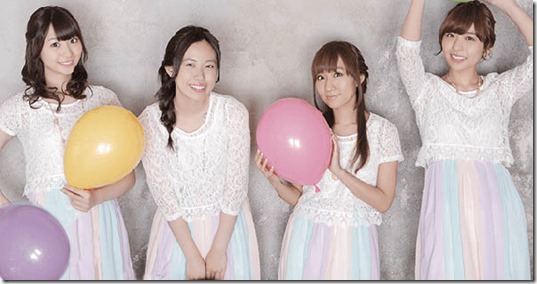 Sphere announced new single Jounetsu CONTINUE (情熱CONTINUE) with tie-up as the ending theme for upcoming anime Yoru no Yatterman (夜ノヤッターマン). The unit also officially announced their best album – Sphere 5th Anniversary Best Album set for simultaneous release with the new single. Their 16th single Jounetsu CONTINUE comes on two editions scheduled for release on February 11th 2015 – more details follow.
~ jacket covers, preview revealed ~
Unit Sphere consists of popular voice actors (seiyuu) Aki Toyosaki, Ayahi Takagaki, Haruka Tomatsu, and Minako Kotobuki. They released 4th original album 4 colors for you on June 25th 2014 and previously released 15th single Kasuka na Hisoka na Tashika na Mirai on May 14th 2014 with tie-up as ED for anime Nanana's Buried Treasure.
In addition to their activities with Sphere and anime voice acting each member has solo projects. Member Aki Toyosaki just released 12th solo single Portrait on November 12th 2014 and Haruka Tomatsu is getting ready to release her 14th single courage on December 3rd 2014 with tie-up as the second opening theme for anime Sword Art Online season 2 (SAO II)
Anime Yoru no Yatterman is being produced in celebration of the 40th anniversary of the Time Bokan franchise from which it originally spun-off. The original Yatterman TV series aired in 1977 and has spawned anime and live-action movies and a 2008 remake of the anime TV series. The new anime is an update of the original.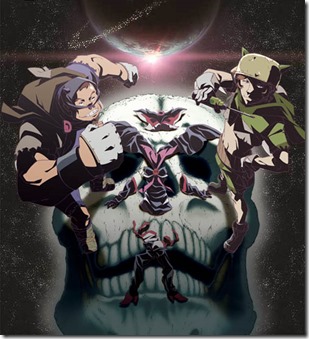 The offiical website is adding more details daily, currently the main visual is gradually being updated (now revealing just the clothes of the Dorombo Gang leader – Doronjo along with her lackies Boyacky and Tonzura. The anime begins airing January 2015 on Tokyo MX.
Unit SCREEN mode provides the anime's opening theme with single Kyokugen Dreamer.
Single Jounetsu CONTINUE comes on two editions (details subject to change). Full track list, jacket covers, and more details coming!
Sphere – Jounetsu CONTINUE (情熱CONTINUE) – release date February 11th 2015
Limited [CD+DVD] (¥1800)


Regular [CD] (¥1200)


[CD]
1. Jounetsu CONTINUE
2. undecided
3. undecided
4. undecided
[DVD]
1. Jounetsu CONTINUE (music video)
[CD]
1. Jounetsu CONTINUE
2. undecided
3. undecided
4. undecided
Sphere Official website (Planet Sphere)
Haruka Tomatsu Official website
Ayahi Takagaki Official website
Minako Kotobuki Official website