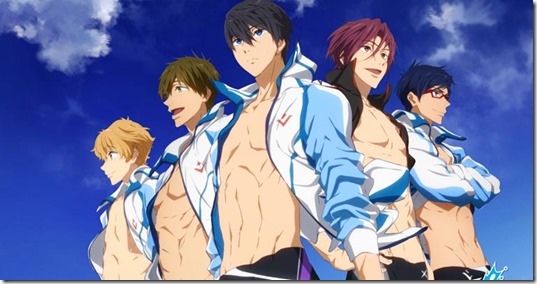 STYLE FIVE gets ready to release single FUTURE FISH and recently revealed the full track list and audio previews. The single has tie-up as the ending theme for the second season of anime Free! (Free! – Eternal Summer) and performed by the five lead voice actors. Single FUTURE FISH releases August 6th 2014 – details and audio preview follow.
Unit STYLE FIVE previously provided the anime's first season ending theme songs SPLASH FREE and EVER BLUE. The unit consists of the main characters/voice actors for the anime,
– Nanse Haruka (CV: Yonaga Tsubasa)
– Hazuki Nagisa (CV: Shimazaki Nobunaga)
– Matsuoka Rin (CV: Mamoru Miyano)
– Ryugazaki Rei (CV: Hirakawa Daisuke)
– Tachibana Makoto (CV: Suzuki Tatsuhisa)
Anime Free! – Eternal Summer is sequel to anime Free! – Iwatobi Swim Club adapted from light novel series High Speed! by Oji Koji and Nishiya Futoshi. Middle school swim club members Makoto, Nagisa, and Haruka try to form new club in high school. They recruit track club member Rei to get the needed four members. They run into Rin who has returned from school abroad to lead rival high school's swim team. Rin had been friends in middle school with the other members and a history with Haruka must be resolved in the pool.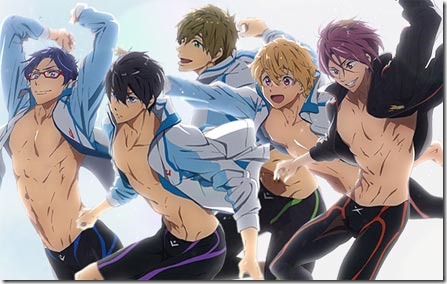 The first season of Free! aired 12 episodes July 2013 and season two Free! – Eternal Summer begins July 2nd 2014 in Japan on Tokyo MX. Provider Crunchyroll has the first season and is simulcasting season two – check our Crunchyroll updates page or hit the link for Free! for episodes and related stories.
OLDCODEX provides the opening theme with their 9th single Dried Up Youthful Fame (more details).
Single FUTURE FISH comes on one CD-only edition with anime themed illustrated jacket cover (details subject to change). Selected stores offer a bonus A2-size vertical-half cut poster – varies by store and while supplies last (bonus details previously reported),
Audio previews below and teaser for episode #5 plus original trailer after the release details.
STYLE FIVE – FUTURE FISH – release date August 6th 2014
Limited [CD+DVD] (¥1300)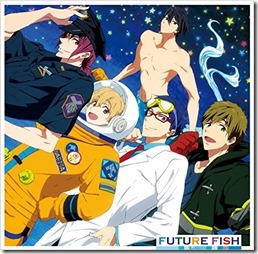 [CD]
1. FUTURE FISH
(preview)

2. NEO BLUE BREATHING
(preview)
Hazuki Nagisa (CV: Shimazaki Nobunaga), Matsuoka Rin (CV: Mamoru Miyano), Tachibana Makoto (CV: Suzuki Tatsuhisa)

3. FUTURE FISH (off vocal)
4. NEO BLUE BREATHING (off vocal)