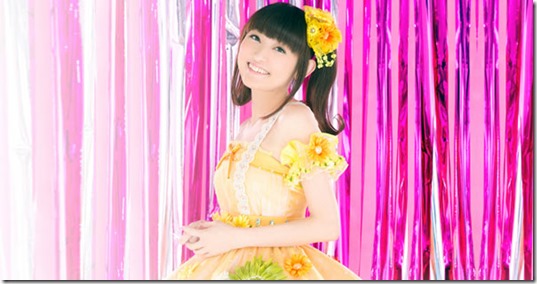 Tamura Yukari (田村ゆか り) announced new single Anone Love me Do (あのね Love me Do). Her 25th solo single (30th overall) includes four new songs and comes on two editions. Single Anone Love me Do is scheduled for release on Christmas Eve December 24th 2014 – read on for more details.
~ jacket covers and preview music video revealed ~
Voice actor and singer Tamura Yukari released her 24th single Himitsu no Tobira Kara ai ni Kite (秘密の扉から会いにきて) on February 5th 2014. The single's featured as the opening theme for anime NO-RIN plus Tamura Yukari voices lead character Ringo Kinoshita/Kusakabe Yuka in the anime.
Tamura Yukari is busy voicing characters in several Fall 2014 anime including SHIROBAKO (Soma), Girl Friend BETA (Tokitani Koruri), Gugure! Kokkuri-san (narrator), and CROSS ANGE (Hilda).
Single Anone Love me Do comes on two editions (details subject to change). Limited edition includes deluxe packaging, photo booklet, and bonus DVD with two music videos. Limited and Regular First Press include lottery application to attend one of the Tamura Yukari special events planned for February 14th & 15th 2015.
Jacket covers and more details coming!
Tamura Yukari – Anone Love me Do (あのね Love me Do) – release date December 24th 2014
Limited [CD+DVD] (¥2000)


Regular [CD] (¥1300)


[CD]
1. Anone Love me Do (あのね Love me Do)
2. Eccentric Lover
3. Made Suki Deisasete (まだ好きでいさせて)
4. you
[DVD]
1. Anone Love me Do (music video)
2. Eccentric Lover (music video)
[CD]
1. Anone Love me Do (あのね Love me Do)
2. Eccentric Lover
3. Made Suki Deisasete (まだ好きでいさせて)
4. you
Tamura Yukari Official website