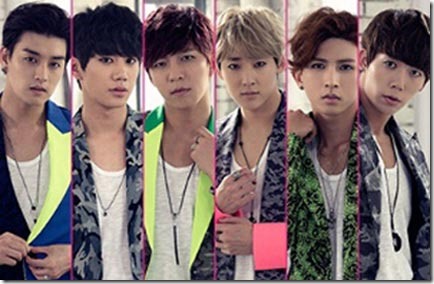 U-KISS is getting ready to release their 9th Japanese single LOVE ON U and revealed the jacket covers and more details. The single has tie-up as the ending theme for NTV drama gossip girl 4th season beginning June 24th 2014. Single LOVE ON U releases with the start of their national tour in Japan on July 16th 2014 – all the details follow.
The group is launching their U-KISS JAPAN TOUR 2014 on July 16th 2014 with two performances at Gotanda U-Port Tokyo. Over 30 performances are planned with recently added tour finale August 31st 2014 at Okinawa Civic Hall. More details at their official website (link below).
Korean vocal group U-KISS has also just released Korean mini-album MONO SCANDAL on June 2nd 2014. Music video for new Korean track Quit Playing with a hot sexual theme follows below the release details.
U-KISS is holding a pair of mini-live and handshake events in conjunction with their new Japanese single. Viewing of mini-live is free and handshake participation requires both ticket A and B included with the single's Limited and Regular editions respectively.
– July 19th 2014 12:00pm Tokyo Dome City LaQua Garden stage
– July 20th 2014 1:00pm Nanko ATC seaside Osaka
Single LOVE ON U comes on three editions (details subject to change). Limited First Press includes event ticket A and Regular First Press includes event ticket B. Fanclub edition has additional bonuses not yet revealed.
Selected stores (Tower Records, HMV, Tsutaya, others..) offer additional purchase bonus that varies (poster, postcard, photo card).
U-KISS – LOVE ON U – release date July 16th 2014
Limited [CD+DVD] (¥1800)


Regular [CD] (¥1000)


[CD]
1. LOVE ON U
2. FEEL IT
3. LOVE ON U (off vocal)
4. FEEL IT (off vocal)
[DVD]
1. LOVE ON U (music video)
2. Making-of music video
[CD]
1. LOVE ON U
2. FEEL IT
3. Forbidden Love (Sweet Valentine Event 2014 ver)
4. LOVE ON U (off vocal)
5. FEEL IT (off vocal)
Fanclub [CD] (¥1000)

 
[CD]
1. LOVE ON U
2. FEEL IT
3. LOVE ON U (off vocal)
4. FEEL IT (off vocal)
 
U-KISS Official website (Japan)