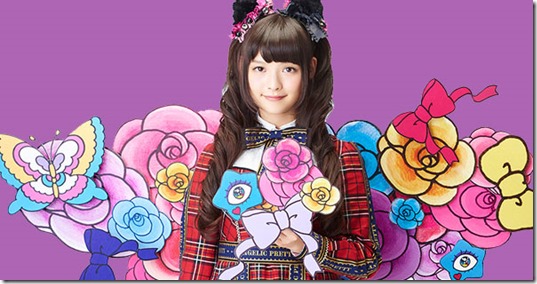 Uesaka Sumire updated the details for 5th single Enma Daio ni Kiite Goran (閻魔大王に訊いてごらん) track list, bonuses, and new anime trailer featuring the theme song unveiled. The single has tie-up as the ending theme for OAD episodes of anime Hozuki no Reitetsu (鬼灯の冷徹) plus Uesake Sumire continues in the supporting roll of Peach Maki in the dark-comedy anime. Single Enma Daio ni Kiite Goran comes on three editions releasing December 10th 2014 – updated details and new anime PV follow.
~ jacket covers and PV revealed ~
Also on December 10th 2014 Uesaka Sumire is presenting an album of 19 1980's idol songs she selected plus a 20th song MUGO n (Kudo Shizuka) covered by Uesaka Sumire (details below).
Previously singer and voice actor Uesaka Sumire (22) provided anime Hozuki no Reitetsu's ending theme with her 3rd single Parallax View (2014.03.05) (more details).
Anime Hozuki no Reitetsu (鬼灯の冷徹), adapted from manga by Natsumi Eguchi, follows the story of Hozuki the aide to Hell King Enma. Hozuki attempts to resolve the various problems and conflicts in Hell. Calm though sadistic Hozuki still finds time for his hobbies including raising Goldfish flowers.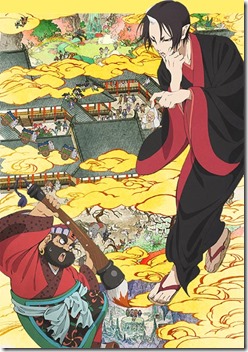 WIT Studio (Attack on Titan) produces the dark supernatural comedy anime with veteran voice actors Hiroki Yasumoto as Hozuki, Eri Kitamura as Oko, and Takashi Nagasako as King Enma. Anime Hozuki no Reitetsu aired 13-episodes starting January 2014 in Japan and provider Crunchyroll – check our Crunchyroll updates page for all the latest anime episodes or hit the link for Hozuki no Reitetsu for episodes and related stores.
The OAD (original animation DVD) episodes are included with the manga's Volume 17 (Feb. 23rd 2015), 18 (May 22nd 2015), and 19 (August 21st 2015).
Single Enma Daio ni Kiite Goran (閻魔大王に訊いてごらん) comes on three editions (details subject to change). Limited Pressing anime themed has illustrated jacket cover and available through March 2015. Regular edition includes additional coupling track.
Each edition of the single also includes a flyer for priority ticket purchase for Uesaka Sumire's 2nd Daiichikai Kawa Buro Soukekki Shuukaiūkai (solo live event) again on February 11th 2015 at Nakano Sun Plaza.
Selected stores also include bonus poster and photo (image varies by store) with each edition – check your store for availability.
New trailer for the anime OAD episodes with preview of theme song Enma Daio ni Kiite Goran (1:37) after release details.
Uesaka Sumire – Enma Daio ni Kiite Goran (閻魔大王に訊いてごらん) – release date December 10th 2014
Limited [CD+DVD] (¥1700)


Limited Pressing Anime [CD] (¥1500)


[CD]
1. Enma Daio ni Kiite Goran
lyrics: RUCCA, music: Iwahashi Seima (Elements Garden)

2. Meikai Tsushin ~ Bojou-hen ~
lyrics, music: Wajima Shinji

3. Enma Daio ni Kiite Goran (off vocal)
4. untitled (off vocal)
[DVD]
1. Enma Daio ni Kiite Goran (music video)

[CD]
1. Enma Daio ni Kiite Goran
2. Meikai Tsushin ~ Bojou-hen ~
3. Enma Daio ni Kiite Goran (off vocal)
4. Enma Daio ni Kiite Goran (TV-size)
Regular [CD] (¥1200)
 

Uesaka Sumire Presents 80's Idol Song Ketteiban [CD] (¥2500)
 

[CD]
1. Enma Daio ni Kiite Goran
2. Meikai Tsushin ~ Bojou-hen ~
3. Tsumitobachi ~ Sweet Inferno ~
lyrics: RUCCA, music: Iwahashi Seima (Elements Garden)

4. Enma Daio ni Kiite Goran (off vocal)
5. Meikai Tsushin ~ Bojou-hen ~ (off vocal)
6. Tsumitobachi ~ Sweet Inferno ~ (off vocal)

[CD]

1. 恋気DEナマイ気/セイントフォー
2. 青山Killer物語/ラ・ムー
3. なぜ?の嵐/吉沢秋絵 with おニャン子クラブ
4. リトル☆デイト/ribbon
5. 東京ローズ'88/レモンエンジェル
6. 夢・不思議いかが/キララとウララ
7. へんネ!/伊藤つかさ
8. パラレルガール/岩井小百合
9. ストーミーウェザー/倉田まり子
10. 姫様ズーム・イン/森川美穂
11. Starlight Movement/菊池桃子
12. ピグマリオン/彩恵津子
13. もっと接近しましょ/石川秀美
14. 50/50/中山美穂
15. 愛はブーメラン/松谷祐子
16. 夢心中 ~MY DESIRE~/三原順子
17. I WANT YOU/山瀬まみ
18. 怒涛の恋愛/高見知佳
19. 水の星へ愛をこめて/森口博子
20. MUGO・ん/工藤静香 (cover: Uesaka Sumire)
Uesaka Sumire official website (StarChild)