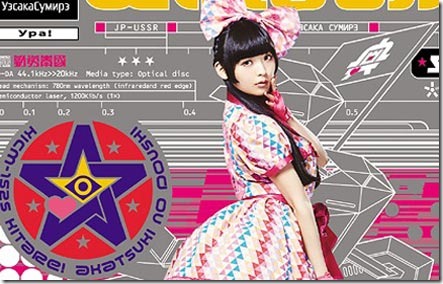 Uesaka Sumire (上坂すみれ) is getting ready to release her 4th single Kitare! Akatsuki no Doushi (来たれ! 暁の同志) and revealed the jacket covers, full track list, and bonuses. Simultaneously with the new single she's releasing a live Blu-ray/DVD capturing her Nakano Sun Plaza February 11th 2014 event Daiichikai Kawa Buro Soukekki Shuukai. Both releases hit stores July 16th 2014 – all the details follow.
Most recently voice actress and singer Uesaka Sumire (22) released single Parallax View (2014.03.05) (more details). Her 3rd single has tie-up as ending theme for anime Hozuki no Reitetsu (鬼灯の冷徹) plus Uesaka Sumire voices supporting character Peach Maki in the dark comedy anime.
Most stores offer one or two purchase bonuses on her new single and Blu-ray/DVD release, each varies by store. Samples for Neo-wing follow and more samples by store can be viewed at Uesaka Sumire's official website (link below),
4th single (photo):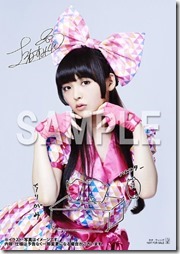 Blu-ray/DVD (poster, clearfile):
Single Kitare! Akatsuki no Doushi comes on two editions. Both editions include flyer for lottery to purchase live event ticket plus a serial number for goods award lottery. The awards lottery is tied to serial numbers from both the new single and BD/DVD Jitsuroku 2.11 Daiichikai Kawa Buro Soukekki Shuukai release.
No details yet on the combined awards lottery.
Uesaka Sumire – Kitare! Akatsuki no Doushi – release date July 16th 2014
Limited [CD+DVD] (¥1700)


Regular [CD] (¥1200)


[CD]
1. Kitare! Akatsuki no Doushi 
2. TRAUMA yo Mirai o Ake!!
3. Kitare! Akatsuki no Doushi (off vocal)
4. TRAUMA yo Mirai o Ake!! (off vocal)
[DVD]
1. Kitare! Akatsuki no Doushi music video
[CD]
1. Kitare! Akatsuki no Doushi 
2. TRAUMA yo Mirai o Ake!!
3. Mugen Matryoshka
4. Kitare! Akatsuki no Doushi (off vocal)
5. TRAUMA yo Mirai o Ake!! (off vocal)
6. Mugen Matryoshka (off vocal)
Uesaka Sumire – Jitsuroku 2.11 Daiichikai Kawa Buro Soukekki Shuukai – release date July 16th 2014
Blu-ray (¥6800)


DVD (¥5800)


[BD]

・革命的ブロードウェイ主義者同盟
・サイケデリック純情
・パララックス・ビュー
・テトリアシトリ
・SUMIRE #propaganda
・すみれコード
・上坂すみれの遠くてごめんねコーナー
・げんし、女子は、たいようだった。
・アオくユレている
・キャラメル桃ジャム120%
・哀愁Fakeハネムーン
・真・革命伝説
・FLYERS
・我旗の元へと集いたまえ

≪アンコール≫
・ソライロ
・我らと我らの道を
・七つの海よりキミの海
・革命的ブロードウェイ主義者同盟

[DVD]

・革命的ブロードウェイ主義者同盟
・サイケデリック純情
・パララックス・ビュー
・テトリアシトリ
・SUMIRE #propaganda
・すみれコード
・上坂すみれの遠くてごめんねコーナー
・げんし、女子は、たいようだった。
・アオくユレている
・キャラメル桃ジャム120%
・哀愁Fakeハネムーン
・真・革命伝説
・FLYERS
・我旗の元へと集いたまえ

≪アンコール≫
・ソライロ
・我らと我らの道を
・七つの海よりキミの海
・革命的ブロードウェイ主義者同盟
Uesaka Sumire official website (StarChild)