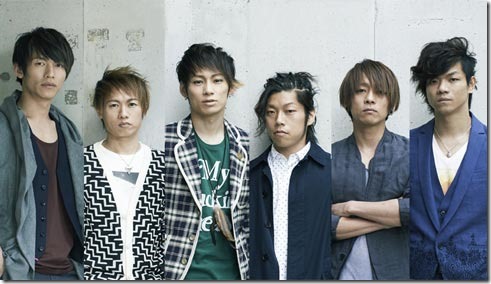 UVERworld announced song 7 Kame no Ketsui (7日目の決意, Nanokame no Ketsui) will be released as their 26th single. The song was featured during their UVERworld ARENA LIVE 2013 winter with the song debuting during a pair of Christmas performances at Nippon Bukokan. Single 7 Kame no Ketsui comes on two editions hitting stores June 18th 2014 – jacket covers, full track list, and more follow.
Most recently rock back UVERworld released 25th single Nano Second (ナノ・セカンド) on December 19th 2014. Previously they released 24th single Fight For Liberty / Wizard CLUB featuring track Fight For Liberty with tie-in as second opening theme for the TV broadcast of anime Space Battleship Yamato 2199.
UVERworld also announced on March 27th 2014 a 6th member – SEIKA – who was an original member of the pre-UVERworld formation Sound Goku Road (Sangoku Road) and has performed with the band during live events as a support member.
Single 7 Kame no Ketsui (7日目の決意) comes on two editions. Limited DVD includes live performances including title track captured at Christmas day performance at Nippon Budokan and a collage version of 20 or more performances of LIMITLESS.
UVERworld – 7 Kame no Ketsui – release date June 18th 2014
Limited [CD+DVD] (¥1500)


Regular [CD] (¥1204)


[CD]
1. 7 Kame no Ketsui
2. Bessekai
3. 7 Kame no Ketsui (off vocal)
4. 7 Kame no Ketsui (TAKUYA recording session voice memo)
[DVD]
1. 7 Kame no Ketsui (live – Nippon Budokan Queen's Party 2013.12.25)
2. LIMITLESS ~ Live collaged ver. ~
3. Core Ability3 UVERworld special video announcement
[CD]
1. 7 Kame no Ketsui
2. Bessekai
3. 7 Kame no Ketsui (off vocal)
4. 7 Kame no Ketsui (TAKUYA recording session voice memo)