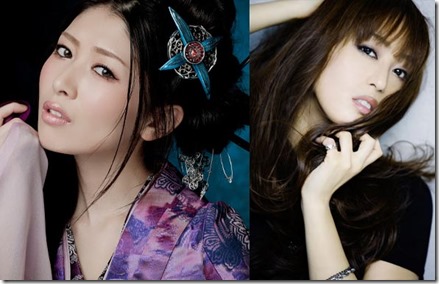 Yoko Hikasa and Minori Chihara are getting ready to release their character song singles for anime Nobunaga the Fool and revealed the full track list and audio preview videos. Yoko Hikasa as Jeanne "Kaguya" d'Arc character song Vol. 3 and Minori Chihara as Ichihime character song Vol 4. both release May 14th 2014 – read on for more details and audio previews.
Minori Chihara also provides the anime's opening theme with her 19th single FOOL THE WORLD that released February 9th 2014 (more details).
Yoko Hikasa released her 4th solo single EX:FUTURIZE on February 12th 2014. The single has tie-up as the opening theme for anime Z/X IGNITION.
Anime Nobunaga the Fool is an original story by Shoji Kawamori (Macros, Escaflowne) and produced by studio Satelight. The futuristic story that draws characters from the Warring States period and European history with planets of the East and West with a long history of turmoil trying to find a new destiny. The prophesied savior of the western planet, Jeanne "Kaguya" d'Arc along with Leonard Da Vinci has helped bring about a renaissance after long periods of war. They now embark to the eastern planet, still locked in war, and meet Nobuaga "the Fool" who longs for the power the change his world. The meeting of Kaguya and Nobuaga begin the path to transform the cultures of both worlds.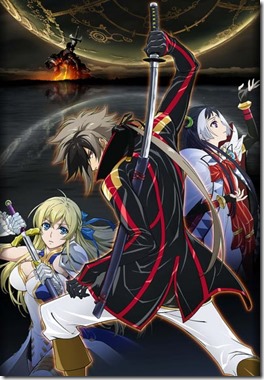 Mamoru Miyano stars as Nobunaga, Tomokazu Sugita as Leonardo da Vinci, Yoko Hikasa as Jeanne "Kaguya" d'Arc, and Minori Chihara as Ichihime. The anime began airing on TV Tokyo January 5th 2014 and outside of Japan provider Crunchyroll is simulcasting the anime. Check our Crunchyroll updates page for all new episodes or hit the link for Nobunaga the Fool for episodes and related stories.
Audio preview videos featuring short versions of both songs included on the releases follows below. *Note jacket covers are un-official and will be updated when revealed.
Yoko Hikasa char: Jeanne Kaguya D'Arc Nobunaga The Fool Character Song Vol. 3 – release date May 14th 2014
Minori Chihara char: Ichihime Nobunaga The Fool Character song Vol. 4 – release date May 14th 2014
Yoko Hikasa (Jeanne Kaguya D'Arc) [CD] (¥1200)


Minori Chihara (Ichihime) [CD] (¥1200)


[CD]
1. YOU'RE MY ONLY FATE
lyrics: Matsui Youhei, music: Watanabe Kazunori

2. REASON FOR ME
lyrics: Matsui Youhei, composer: Sugimori Mai, arrangement: Kurauchi Tatsuya

3. YOU'RE MY ONLY FATE (off vocal)
4. REASON FOR ME (off vocal)

[CD]
1. NAME OF FLOWER
lyrics: Matsui Youhei, composer: Yabuki Kana, arrangement: Maeguchi Wataru

2. OATH FOR MY DEARS
lyrics: Matsui Youhei, composer: Kawasaki Satomi, arrangement: Moriya Toshinori

3. NAME OF FLOWER (off vocal)
4. OATH FOR MY DEARS (off vocal)
Minori Chihara official website
Yoko Hikasa Official website (Pony Canyon)