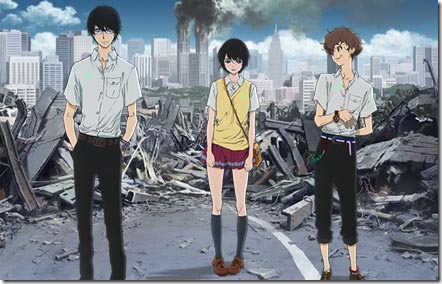 Composer Yoko Kanno provides the music for upcoming anime Zankyo no Terror (残響のテロル) and the original soundtrack is now available for pre-order on one CD-only edition. For the anime she again teams up with director Shinichiro Watanabe (Cowboy Bebop, Space Dandy). The Zankyo no Terror Original Soundtrack is scheduled for release on July 9th 2014 – read on for more details and anime trailer…
~ updated details and previews ~
Famous composer Yoko Kanno has provided the music for iconic Cowboy Bebop and Macross anime series and movie(s). She also provided the music for classic anime Darker than Black, Ghost in the Shell: Stand Alone Complex, Wolf's Rain, and one of her first works Vision of Escaflowne. More recently she provided the music for Kids on the Slope and Space Dandy with its second season coming this Summer 2014 season too.
Anime Zankyo no Terror, (Terror in Resonance) an original anime from studio MAPPA, is directed by Shinichiro Watanabe with character designs by Kazuto Nakazawa (Samurai Champloo). The anime's story introduction says "On a summer day a massive terrorist bombing* stuck Tokyo. The culprits were just two boys who woke up this complacent nation from its slumber. The boys known as "Sphinx" begin a grand game that engulfs all of Japan".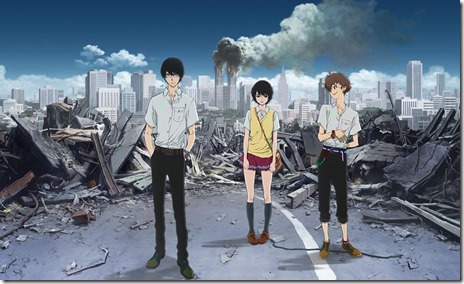 The anime begins airing in Japan July 2014 on Fuji TV in its Noitamina time slot. Preview trailer and official website link follow below. *note the illustrated building on fire is representative of the Tokyo Metropolitan Government Building.
The Zankyo no Terror Original Soundtrack with music by Yoko Kanno comes on one CD-only edition (details subject to change). First Press edition adds special jacket cover.
Selected stored offer additional bonus (more will be announced),
Jacket size photo stickers: Tower Records
Illustrated postcard: HMV
Photo: Noitamina shop 
Special jacket cover: Aniplex shop
Jacket cover, full track list, and more details coming – follow Comtrya Sugoi for updates.
Yoko Kanno – Zankyo no Terror Original Soundtrack – release date July 9th 2014
Regular [CD] (¥3000)


 
[CD]
1. contents undecided
 
Zankyo no Terror (Terror in Tokyo) official website