February 17, 2014
-
toyNN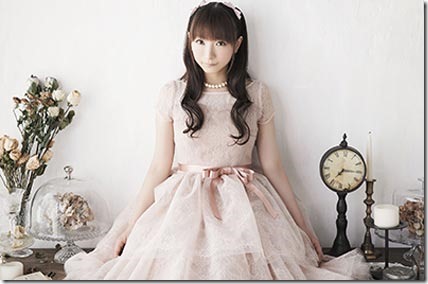 Yui Horie has updated the release details for new single The♡World's♡End – jacket covers, full track list, and more unveiled. Her 17th single's title track has tie-up as the second opening theme for anime GOLDEN TIME and coupling track Haneikyu-teki ni Aishite yo♡ is featured as the anime's second ending theme. Completing the connection Yui Horie also voices key character Koko Kaga in the anime. Single The♡World's♡End comes on two editions hitting stores March 12th 2014 – read on for updated details…
~ PV revealed ~
Popular voice actress and singer Yui Horie recently released 16th single Golden Time (2013.11.13) with the title track featured as the first opening theme for anime GOLDEN TIME. The single's coupling track Sweet & Sweet CHERRY has tie-up as the first ending theme (more details).
Yui Horie also released character and theme song single Poker Face for anime Miss Monochrome on January 29th 2014. The comedy short anime is based on a character created by Yui Horie and she provides the voice for title character Miss Monochrome (more details here).
Another upcoming release has Yui Horie providing the theme song Kono Basho de (この場所で) for anime OVA Mitsuwano (みツわの). In addition to providing the theme song she voices main character Mai Ichinose. The OVA episodes for anime Mitsuwano are releasing straight to Blu-ray and DVD March 12th 2014 (more details).
Anime GOLDEN TIME (ゴールデンタイム) is adapted from light novels by Yuyuko Takemiya also responsible for the highly popular Toradora! light novel series. The romantic comedy follows law school student Tada Banri who lost many of his memories at the end of high school due to a traumatic accident. He meets many new friends and re-meets old ones whether he knows it or not.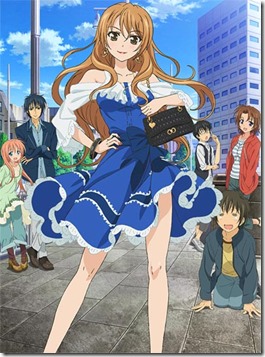 Anime GOLDEN TIME is produced by J.C. Staff and began airing in Japan October 3rd 2013 on Tokyo MX and MBS TV. It continues this winter with 24 total episodes planned. Outside of Japan, Crunchyroll is simulcasting – check our Crunchyroll updates page for all the latest episodes or hit the link for GOLDEN TIME for episodes and related stories.
Single The♡World's♡End comes on two editions with the Limited having a detective challenge tied to possible awards,
– Limited with DVD containing music video for title track. Includes detective book that accompanies the music video – find clues and solve the mystery for possible awards to be announced.
– Regular CD-only.
Yui Horie – The♡World's♡End – release date March 12th 2014
Limited [CD+DVD] (¥1890)

Regular [CD] (¥1200)

[CD]
1. The♡World's♡End
2. Haneikyu-teki ni Aishite yo♡
3. The♡World's♡End (off vocal)
4. Haneikyu-teki ni Aishite yo♡ (off vocal) 
[DVD]
1. The♡World's♡End (music video)
[CD]
1. The♡World's♡End
2. Haneikyu-teki ni Aishite yo♡
3. The♡World's♡End (off vocal)
4. Haneikyu-teki ni Aishite yo♡ (off vocal)