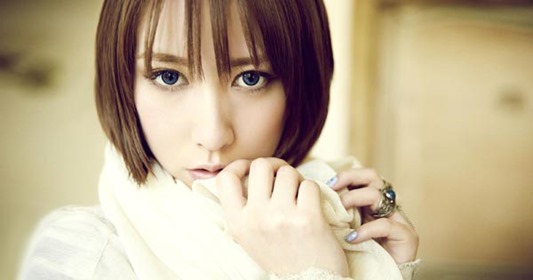 Aoi Eir (藍井エイル) is getting ready to release single Lapis Lazuli (ラピスラズリ) and unveield the jacket covers, full track list, and more. She co-writes her 10th single with tie-up as the ending theme for anime The Heroic Legend of Arslan (Arslan Senki). Single Lapis Lazuli comes on three editions hitting stores April 22nd 2015. Updated details and PVs follow.
Singer and songwriter Aoi Eir (Eir Aoi) also recently released digital song Cynthia no Hikari with tie-up as opening theme for new game Sword Art Online – Lost Song. The song released March 25th 2015 and topped each delivery site. Luna Haruna provides the game's ending theme Yoru no Niji wo Koete (夜の虹を越えて) included on her new album Candy Lips that released March 25th 2015.
Aoi Eir released 9th single GENESIS on February 18th 2015 with tie-up as the ending theme for the second season of anime Aldnoah.ZERO.
The upcoming Aoi Eir LIVE TOUR 2015 hits 9 cities across Japan. Ticket information at her official website (link below),
– May 24th 2015 4:30pm Darwin Sendai
– May 30th 2015 4:30pm GRINDHOUSE Tokushima
– May 31st 2015 4:30pm VanVan V4 Kanazawa
– Jun 4th 2015 6:30pm Namiki Junction Hiroshima
– June 7th 2015 4:00pm Hatch Namba
– June 10th 2015 6:15pm Bottom Line Nagoya
– June 14th 2015 4:15pm DRUM LOGOS Fukuoka
– June 18th 2015 6:30pm PENNY LANE 24 Sapporo
– June 27th 2015 4:00pm Toyosu PIT Tokyo
This past February 27th – March 1st 2015 Aoi Eir performed at Natsu Matsuri in Peru (her first time in South America). Footage from the event and her time in Peru is included on the new single's Limited edition DVD.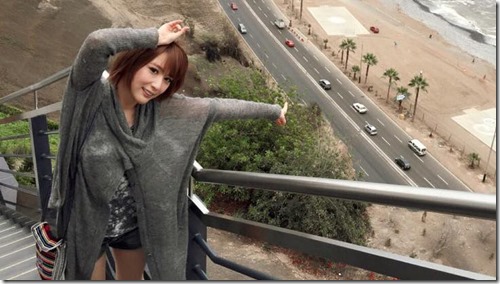 Anime The Heroic Legend of Arslan (Arslan Senki, アルスラーン戦記) adapted from manga by Arakawa Hiromu (orig. novels by Tanaka Yoshiki), follows Arslan a young and curious prince of Pars who, despite his best efforts, doesn't seem to have what it takes to be a proper king like his father. The prosperous kingdom of Pars currently ruled by the undefeated and fearsome King Andragoras.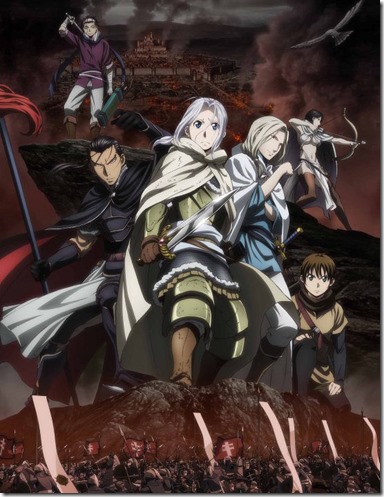 But everything changes at the age of 14, Arslan thrust into his first battle sees his father defeated and loses everything as war brings the demise of the once glorious kingdom. Arslan must now embark on a journey to reclaim his fallen kingdom.
The anime features Kobayashi Yuuske (Takamiya Witch Craft Works) as Arslan and Maaya Sakamoto in supporting role of Falangies. It airs starting April 5th 2015 Sundays 5:00pm (JST) on MBS TV and TBS TV in Japan. Licensor Funimation.com simulcasts for North American audiences.
Rock band UVERworld provides opening theme Boku no Kotoba de wa nai Kore wa Bokutachi no Kotoba (僕の言葉ではない これは僕達の言葉) (more details).
Single Lapis Lazuli comes on three editions. Limited Pressing anime themed edition has illustrated jacket cover plus ending animation storyboards. First Press editions on each include photo card that differs by edition.
Short trailer featuring ending theme plus new longer trailer featuring opening theme both after the release details.
Aoi Eir – Lapis Lazuli – release date April 22nd 2015
Limited -CD+DVD] (¥1481)


Limited Pressing [CD] (¥1296)


[CD]
1. Lapis Lazuli
lyrics: Aoi Eir, Kato Yusuke, music: Kato Yusuke

2. Utsusemi Ultimate
lyrics/music: Yasuda Takahiro

3. Rindou no Hana
lyrics: Aoi Eir, composer: Yasuda Shio, arranger: yukarico
  
4. Lapis Lazuli (off vocal)
[DVD]
1. Lapis Lazuli (music video)
2. making-of music video footage
3. Aoi Eir in Peru

[CD]
1. Lapis Lazuli
2. Utsusumi Ultimate
3. Rindou no Hana
4. Lapis Lazuli (TV-size)
Regular [CD] (¥1204)


 
[CD]
1. Lapis Lazuli
2. Utsusumi Ultimate
3. Rindou no Hana
4. Lapis Lazuli (off vocal)