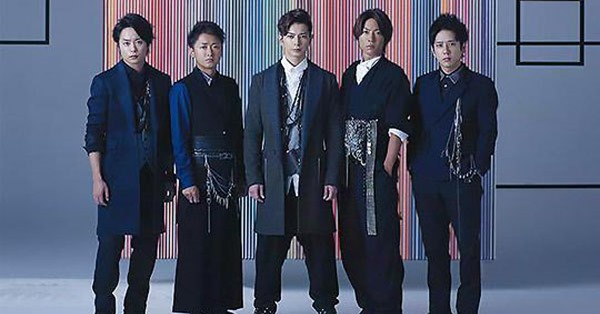 Arashi (嵐) is getting ready to release new album Japonism that includes two previously released singles plus new songs, member solo songs, and more with 16 total tracks. Their 14th album comes on three editions hitting stores October 21st 2015.
Top selling male vocal unit Arashi is in their 16th year and their recent trend of releasing their annual album in October continues last releasing 13th album THE DIGITALIAN on October 22nd 2014.
Most recently they released 47th overall and 43rd #1 charting single Ai wo Sakebe on September 2nd 2015 (not included on album).
Album Japonism comes on three editions plus a bundled set. Limited DVD edition includes 84-page photo/lyrics booklet, Limited 2CD edition includes 32-page lyrics booklet, and Regular 2CD edition includes 36-page lyrics booklet. Main CD similar on all editions and additional CD differs.
Arashi – Japonism – release date October 21st 2015
Limited [2CD+DVD] (¥3300)


Limited [2CD] (¥2900)


[CD]
1. Sakura (45th sngl)
2. Kokoro no Sora
3. Kimi he no Omoi
4. Don't you love me? (Matsumoto Jun solo)
5. miyabi-night
6. Mikadzuki
7. Bolero!
8. Mr. FUNK (Masaki Aiba solo)
9. Akatsuki (Ohno Satoshi solo)
10. Aozora no Shita, Kimi no Tonari  (46th sngl)
11. Rolling days (Sho Sakurai solo)
12. In The Room
13. Masquerade
14. MUSIC (Ninomiya Kazunari solo)
15. Tsutaetai koto
16. Japonesque

[DVD]
1. Kokoro no Sora  (music video)
2. making-of music video documentary

[CD1]
1. Sakura
2. Kokoro no Sora
3. Kimi he no Omoi
4. Don't you love me? (Matsumoto Jun solo)
5. miyabi-night
6. Mikadzuki
7. Bolero!
8. Mr. FUNK (Masaki Aiba solo)
9. Akatsuki (Ohno Satoshi solo)
10. Aozora no Shimo, Kimi no Tonari
11. Rolling days (Sho Sakurai solo)
12. In The Room
13. Masquerade
14. MUSIC (Ninomiya Kazunari  solo)
15. Tsutaetai koto
16. Japonesque

[CD2]
1. Nihon yoi Toko Maka Fushigi (covered by Arashi)
2. Arajapo Talk (members commentary)

Regular [CD] (¥3300)


Bundled set  (¥9500)


[CD1]
1. Sakura
2. Kokoro no Sora
3. Kimi he no Omoi
4. Don't you love me? (Matsumoto Jun solo)
5. miyabi-night
6. Mikadzuki
7. Bolero!
8. Mr. FUNK (Masaki Aiba solo)
9. Akatsuki (Ohno Satoshi solo)
10. Aozora no Shimo, Kimi no Tonari
11. Rolling days (Sho Sakurai solo)
12. In The Room
13. Masquerade
14. MUSIC (Ninomiya Kazunari  solo)
15. Tsutaetai koto
16. Japonesque

[CD2]
1. Bokura ga Tsunaide Iku
2. the Deep End
3. Make a wish
4. Furusato

 
Arashi Official website (Johnny's Net)
Arashi Official website (J-Storm)