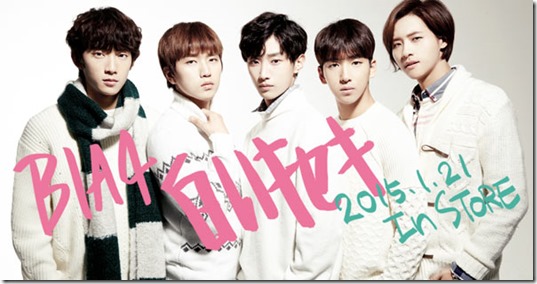 B1A4 just released 5th Japanese single Shiroi Kiseki (白いキセキ) and unveiled the full music video for fans. Single Shiroi Kiseki comes on three editions that hit stores January 21st 2015. All the details and full music video follows.
Popular Korean group B1A4 most recently released 4th Japanese single SOLO DAY with the songs written and composed by lead member Jinyoung. Single SOLO DAY released September 10th 2014. They released their 2nd Japanese album "2" back on March 19th 2014 and saw it climb to #9 on the weekly Oricon charts.
Single Shiroi Kiseki comes on three editions. Limited editions and Regular First Press include one of three application tickets: individual member autograph session, high-touch event, or gift lottery. Regular First Press also includes trading card (1 or 3). Regular edition includes bonus tracks.
The full music video for Shiroi Kiseki after the release details.
B1A4 – Shiroi Kiseki (白いキセキ) – release date January 21st 2015
Limited A [CD+DVD] (¥1500)


Limited B [CD+DVD] (¥1500)


[CD]
1. Shiroi Kiseki
2. WHO AM I – Japanese ver. –
3. Shiroi Kiseki (off vocal)
4. WHO AM I (off vocal)
[DVD]
1. Jacket cover photo shoot documentary
2. Recording documentary
[CD]
1. Shiroi Kiseki
2. WHO AM I – Japanese ver. –
3. Shiroi Kiseki (off vocal)
4. WHO AM I (off vocal)
[DVD]
1. 2014 Japan documentary
Regular [CD] (¥1200)


[CD]
1. Shiroi Kiseki
2. WHO AM I – Japanese ver. –
3. Muruhanjan – Japanese ver. –
4. Shiroi Kiseki (off vocal)
5. WHO AM I (off vocal)
6. Muruhanjan (off vocal)