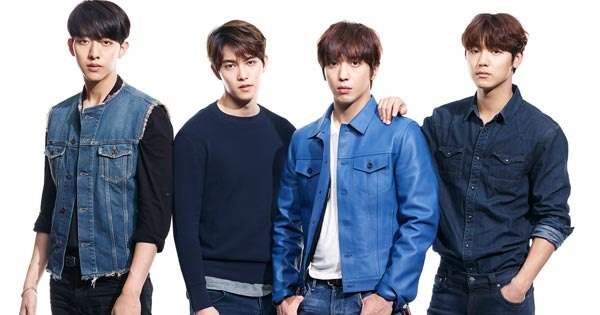 CNBLUE announced details for new Japanese album colors – jacket covers and early track list details unveiled. Their 4th Japanese album includes two songs from single WHITE and 9 new songs including lead track Supernova. Album colors comes on three editions plus a fan club version all hitting stores September 30th 2015.
~ updated track list and members message PV revealed ~
Most recently Korean rock band CNBLUE released Japanese single WHITE on April 8th 2015. Its been nearly a year since they released 3rd Japanese album WAVE September 17th 2014.
The band also revealed dates for their upcoming arena tour that hits 5 venues and 9 performances – CNBLUE 2015 ARENA TOUR ~ Be a Supernova ~
2015.11.3  Nagano Big Hat (Nagano)
2015.11.5 & 11.6 Yoyogi National Stadium first gymnasium (Tokyo)
2015.11.12 & 11.13 NGK Insulators Hall (Aichi)
2015.11.15 Sun Dome Fukui (Fukui)
2015.11.25 & 11.26 Osaka Castle Hall (Osaka)
2015.12.3 Nippon Budokan (Tokyo)
Album colors comes on four editions (details subject to change). Each edition (Regular First Press) includes application code and fans submitting codes from 3 of 4 editions will be in drawing for memorial photo session with meet & greet for each day of their upcoming arena tour (100 people each day for a total of 900 people invited).
Full track list and more details coming!
CNBLUE – colors – release date September 30th 2015
Limited A [CD+DVD] (¥3800)


Limited B [CD] (¥3800)


[CD]
1. Supernova
2. WHITE
3. IRONY
4. – 11. undecided

[DVD]
1. Supernova (music video)
2. making-of music video footage
3. Supernova solo shot (music video)

[CD]
1. Supernova
2. WHITE
3. IRONY
4. – 11. undecided

[DVD]
LIVE from ROCK NATION 2014.8.15 [first half] 1.Ryu Can Do It
2.In My Head
3.Wake up
4.Coffee shop
5.I'm sorry

Regular [CD] (¥3000)


Fanclub BOICE [CD+DVD] (¥3000)

[CD]
1. Supernova
2. WHITE
3. IRONY
4. – 11. undecided
[CD]
1. Supernova
2. WHITE
3. IRONY
4. – 11. undecided

[DVD]

1. LIVE from ROCK NATION 2014.8.15 [second half]
– Lady
– Can't Stop
2. DIGEST from BOICE NATSUMATSURI 2015
CNBLUE Official website (Japanese)