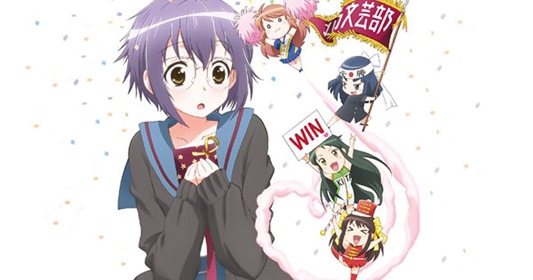 Unit Kita-ko Bungei-bu Joshi-kai (北高文芸部女子会) is getting ready to release single Fure Fure Mirai (フレ降レミライ ) with tie-up as the opening theme for anime The Disappearance of Nagato Yuki-chan. The anime's lead female voice actors form the unit: Aya Hirano, Minori Chihara, Goto Yuko, Matsuoka Yuki, and Kuwatani Natsuko. All renew their rolls in the Melancholy of Haruhi Suzumiya franchise's 3rd TV anime series. Single Fure Fure Mirai comes on one CD-only edition hitting stores April 29th 2015. All the details follow.
The single includes coupling track Fuwa Fuwa Nakama de Yoroshiku ne (ふわふわナカマでよろしくね) sung in anime voice by unit Kita-ko Bungei-bu Radio Shibu consisting of Nagato Yuki (Minori Chihara) and Asakura Ryoko (Kuwatani Natsuko).
The original 2006 anime series The Melancholy of Haruhi Suzumiya helped launch the voice acting and music careers of a then 18 year old Aya Hirano (Haruhi) and Minori Chihara (Nagato Yuki). At the time both were inexperienced with few voice acting credits or music releases.
Minori Chihara (right) provides the anime's ending theme with her 22nd single Arigato, Daisuki (ありがとう、だいすき) set for release on June 24th 2015.
Anime The Disappearance of Nagato Yuki-chan (長門有希ちゃんの消失) is set in the alternate world introduced in the 4th Haruhi Suzumiya light novel (2004) from Tanigawa Nagaru. Its adapted from 2012 spin-off manga series by Puyo and follows Nagato Yuki who in this world isn't an emotionless alien but a shy and somewhat timid girl who develops feelings for fellow literature club member Kyon.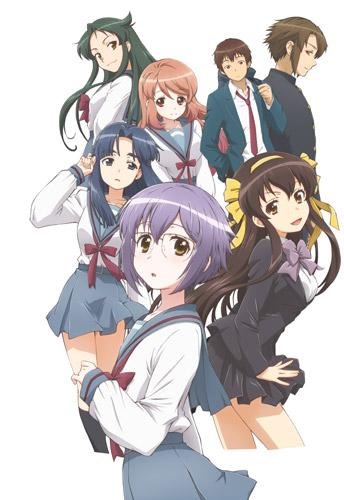 The anime began airing in Japan April 3rd 2015 and for North America provider Funimation.com streams.
Single Fure Fure Mirai comes on one CD-only edition with anime themed illustrated jacket cover.
Selected stores offer purchase bonus, varies by store and while supplies last: animate (clear file), Gamers (photo), Toranoana (microfiber towel), Sofmap (postcard), Tsutaya (photo), HMV (photo). The same stores also offer bonus double-sided poster (anime themed jacket covers) when purchasing the OP and ED singles together.
Anime trailer after the release details.
Kita-ko Bungei-bu Joshi-kai – Fure Fure Mirai (フレ降レミライ ) – release date April 29th 2015
Regular [CD] (¥1200)


 
1. Fure Fure Mirai
lyrics: Hata Aki, composer: Saskura Yugo, arrangement: Watanabe Kazunori

2. Fuwa Fuwa Nakama de Yoroshiku ne 
lyrics: Hata Aki, music: Watanabe Kazunori

3. Fure Fure Mirai (off vocal)
4. Fuwa Fuwa Nakama de Yoroshiku ne (off vocal)

 
Disappearance of Nagato Yuki-chan
Disappearance of Nagato Yuki-chan at Lantis
Minori Chihara official website