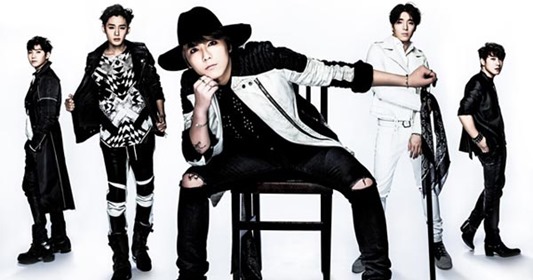 FTISLAND commemorates the fifth anniversary of their career in Japan with new album 5….GO. They unveiled a song preview video for all 10 tracks plus previously revealed the music video for new song Primavera (produced with Taka from ONE OK ROCK). Album 5….GO comes on four editions hitting stores May 13th 2015. All the release details and PVs follow.
Korean rock band FTISLAND last released Japanese single To The Light on October 15th 2015. Their 14th Japanese single was also produced in collaboration with Taka from ONE OK ROCK. Most recently they released 5th Korean album I WILL on March 27th 2015.
Album 5….GO comes on three editions plus a fanclub version. Limited A includes DVD with music video and making-of footage for new song Primavera plus 44-page photo booklet and 16-page lyrics booklet. Limited B includes DVD with footage and live perforances from SUMMER SONIC 2014 plus making-of footage for Regular edition bonus track. Regular adds bonus track FISH – Acoustic Version. First Press on both add trading card (1 of 6).
Album preview video plus previously revealed message + music video for Primavera both after release details.
FTISLAND – 5….GO – release date May 13th 2015
Limited A [CD+DVD] (¥4500)


Limited B [CD+DVD] (¥3800)


[CD]
1. To The Light
2. Primavera
3. Orange Days
4. YES or NO
5. Tornado
6. CRYING IN THE RAIN
7. Moonlight
8. DAYDREAMER
9. Hourglass
10. My birthday
[DVD]
1. Primavera (music video)
2. Primavera (in studio)
3. Primavera making-of footage
[CD]
1. To The Light
2. Primavera
3. Orange Days
4. YES or NO
5. Tornado
6. CRYING IN THE RAIN
7. Moonlight
8. DAYDREAMER
9. Hourglass
10. My birthday
[DVD]
1. SUMMER SONIC 2014
– Backstage footage
– Opening
– BE FREE
– TOP SECRET
– beautiful
2. FISH acoustic version making-of footage
Regular [CD] (¥3000)


Primadonna [CD+DVD] (¥3500)

[CD]
1. To The Light
2. Primavera
3. Orange Days
4. YES or NO
5. Tornado
6. CRYING IN THE RAIN
7. Moonlight
8. DAYDREAMER
9. Hourglass
10. My birthday
11. FISH – Acoustic Version – (bonus track)
[CD]
1. To The Light
2. Primavera
3. Orange Days
4. YES or NO
5. Tornado
6. CRYING IN THE RAIN
7. Moonlight
8. DAYDREAMER
9. Hourglass
10. My birthday
[DVD]
1. SUMMER SONIC 2014
– Morning Coffee
– BEAT IT
– Shinin' On
– FREEDOM
– Backstage Footage
2. Primavera (outtake footage)
FTISLAND Official website (Japan)
FTISLAND at Warner Music Japan