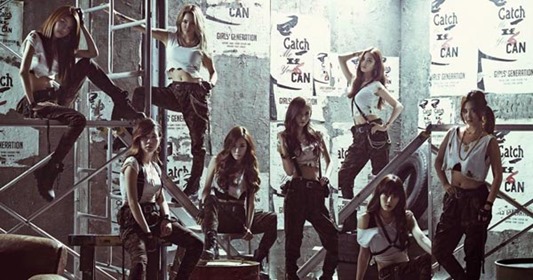 GIRLS' GENERATION (少女時代) unveiled the Japanese and Korean music videos for new single Catch Me If You Can. The video features the strong dance tune with gritty outdoor location at a mining site. The Japanese single Catch Me If You Can comes on two Limited editions releasing on April 22nd 2015 plus a special 12" vinyl releases May 27th 2015. The Korean version of the song released April 10th 2015. More details and PVs follow.
In conjunction with the single a Selphy-image or voice-video contest "#catchGG" asks fans to post to Twitter, Facebook, or Instagram under the hash-tag. Winners in each category, determined by members of GIRLS' GENERATION (SNSD), receive commemorative trophy. Contest special website link below.
Most recently popular Korean voice unit GIRLS' GENERATION (Shoujo Jidai 少女時代 in Japan) re-release of their Japanese greatest hits album THE BEST with updated track list including two new songs on October 15th 2015. Album THE BEST originally released July 23rd 2014 (more details) and spent two weeks on top of the Oricon album charts.
The original nine member group has undergone its first line-up change with popular member Jessica Jung leaving the group September 30th 2014. This release is the first with the now eight member GIRLS' GENERATION.
Single Catch Me If You Can comes on three editions (details subject to change). Special Limited includes 24-page booklet, tall all-black case with special wrapping bag. Regular Limited includes 8-page booklet and 3D-film jacket (First Press version only). A 12" vinyl record is planned for limited release via Universal Music Store with release date of May 27th 2015.
Limited edition jacket covers coming!
Preview music video for Catch Me If You Can – Korean ver. and Japanese ver. both after the release details.
GIRLS GENERATION – Catch Me If You Can – release date April 22nd 2015
Limited Special [CD+DVD] (¥2296)


Limited Regular [CD+DVD] (¥1556)


[CD]
1. Catch Me If You Can
2. Girls
3. Catch Me If You Can (off vocal)
[DVD]
1. Catch Me If You Can (music video)
[CD]
1. Catch Me If You Can
2. Girls
3. Catch Me If You Can (off vocal)
[DVD]
1. Catch Me If You Can (music video)
Special analog [12" vinyl] (¥2204)

 
[12" vinyl]
1. Catch Me If You Can
2. Catch Me If You Can (off vocal)
 
Girls Generation Japanese site
Girls Generation at Universal Music Japan
Girls Generation Facebook page