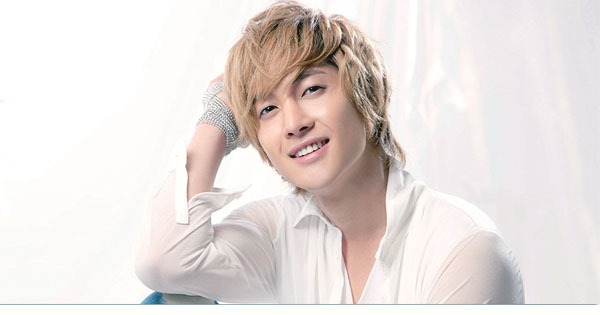 Kim Hyun Joong is preparing to release compilation album The Best of KIM HYUN JOONG that includes 34 of his Japanese and Korean hits. Jacket cover photo shot was completed on his 29th birthday June 6th. The Best of KIM HYUNG JOONG album comes on three editions (plus two via limited outlets) all hitting stores July 1st 2015.
Popular Korean singer and actor Kim Hyun Joong debuted in 2005 as the leader of group SS501 and celebrating his 10th anniversary as a artist. Unfortunately for fans his greatest hits album will be his last for some time as he is about to go on hiatus to complete mandatory military service in Korea.
In Japan most recently he released 2nd album Imademo (今でも) on February 11th 2015. Previously he released 4th Japanese single HOT SUN on June 18th 2014.
The Best of KIM HYUNG JOONG album comes on three editions with two special editions available only via select outlets (Fanclub & DATV). Limited A & B have different CD2 contents plus special feature on Blu-ray differs from DVD. Regular edition has same CD contents as Limited B. Most stores offer photo bonus with each edition purchased while supplies last and image varies by store (common store sample),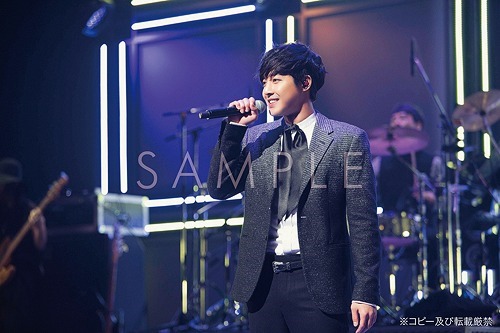 Awards lottery with submission of entry code from two different editions (entry deadline July 31st 2015),
– 100 people Kim Hyun Joong alarm clock
– 100 people autographed penlight x KIM HYUN JOONG JAPAN TOUR 2015 "GEMINI"
– all applicants set of two clear files
Preview music video for song Imademo after the release details.
Songs and music videos Japanese versions except those marked with asterisk (*) are Korean versions.
Kim Hyun Joong – The BEST of KIM HYUN JOONG – release date July 1st 2015
Limited A [CD2+BD] (¥5800)


Limited B [CD2+DVD] (¥4800)


[CD]
1. HEAT
2. KISS KISS
3. Let's Party
4. TIMING feat. SKY-HI
5. Lucky Guy
6. TONIGHT
7. B.I.N.G.O.
8. Save Today
9. U
10. Kimi Dake wo Kesenakute
11. BREAK DOWN feat. Double K
12. HOT SUN
13. Good-Bye
14. Imademo
15. Your Story

[CD2]
1. Tsutaetai Kotoba
2. Beauty Beauty
3. Boku wa Kimi no Mono
4. I'm Yours
5. Nothing on You (feat Han-Hae)
6. Gentleman
7. Marry Me
8. Hohoemi Nochi Kara
9. YOUR STORY FEAT. DOK2 *
10. DO YOU LIKE THAT *
11. UNBREAKABLE FEAT. JAY PARK *
12. Please *
13. Kimi mo Boku to Onajinaraba *
14. Arigato *

[BD] Music Video collection w/special features
1. KISS KISS
2. Lucky Guy
3. HEAT
4. Let's Party
5. Your Story
6. Save Today
7. TONIGHT
8. Cappuccino
9. Kimi Dake wo Kesenakute
10. HOT SUN (jacket cover making-of)
11. Imademo
12. Please *
13. BREAK DOWN feat. Double K *
14. KISS KISS *
15. Lucky Guy *
16. Marry Me *
17. Marry You *
18. UNBREAKABLE FEAT. JAY PARK *
19. Beauty Beauty *
20. KIM HYUN JOONG JAPAN TOUR 2015  'GEMINI' in YOKOHAMA – special features

[CD]
1. HEAT
2. KISS KISS
3. Let's Party
4. TIMING feat. SKY-HI
5. Lucky Guy
6. TONIGHT
7. B.I.N.G.O.
8. Save Today
9. U
10. Kimi Dake wo Kesenakute
11. BREAK DOWN feat. Double K
12. HOT SUN
13. Good-Bye
14. Imademo
15. Your Story

[CD2]
1. Tsutaetai Kotoba
2. Beauty Beauty
3. Boku wa Kimi no Mono
4. I'm Yours
5. Nothing on You (feat Han-Hae)
6. Cappuccino
7. YES I WILL *
8. SMILE *
9. Boku wa Kimi no Mono*
10. Izen no yo ni *
11. UNBREAKABLE FEAT. JAY PARK *
12. Please *
13. Kimi mo Boku to Onajinaraba *
14. Arigato *

[DVD] Music Video collection w/special features
1. KISS KISS
2. Lucky Guy
3. HEAT
4. Let's Party
5. Your Story
6. Save Today
7. TONIGHT
8. Cappuccino
9. Kimi Dake wo Kesenakute
10. HOT SUN (jacket cover making-of)
11. Imademo
12. Please *
13. BREAK DOWN feat. Double K *
14. KISS KISS *
15. Lucky Guy *
16. Marry Me *
17. Marry You *
18. UNBREAKABLE FEAT. JAY PARK *
19. Beauty Beauty *
20. KIM HYUN JOONG JAPAN TOUR 2015  'GEMINI' in OSAKA – special features

Regular [CD2] (¥3500)


[CD]
1. HEAT
2. KISS KISS
3. Let's Party
4. TIMING feat. SKY-HI
5. Lucky Guy
6. TONIGHT
7. B.I.N.G.O.
8. Save Today
9. U
10. Kimi Dake wo Kesenakute
11. BREAK DOWN feat. Double K
12. HOT SUN
13. Good-Bye
14. Imademo
15. Your Story

[CD2]
1. Tsutaetai Kotoba
2. Beauty Beauty
3. Boku wa Kimi no Mono
4. I'm Yours
5. Nothing on You (feat Han-Hae)
6. Cappuccino
7. YES I WILL *
8. SMILE
9. Boku wa Kimi no Mono*
10. Izen no yo ni *
11. UNBREAKABLE FEAT. JAY PARK *
12. Please *
13. Kimi mo Boku to Onajinaraba *
14. Arigato *
Kim Hyun Joong at Universal Music Japan