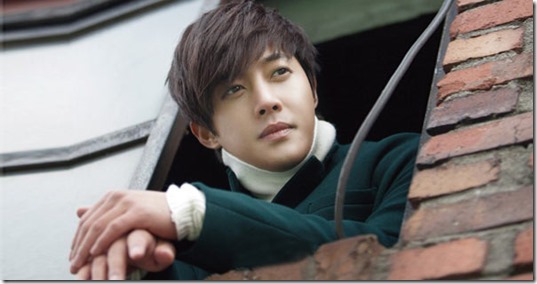 Kim Hyun Joong revealed the track list, jacket covers, and bonus details for Japanese album Imademo (今でも). His 2nd Japanese album includes singles, coupling tracks, and new songs for 12 total tracks. Album Imademo comes on four editions hitting stores February 11th 2015 – read on for more details.
Its been over two years sincle popular Korean singer and actor Kim Hyun Joong released his 1st Japanese album UNLIMITED on December 12th 2012 (more details). Most recently in Japan he released 4th single HOT SUN on June 18th 2014. The single includes coupling track TIMING featuring SKY-HI from group AAA . Both songs are included on the new album.
Also included on the album is his 3rd Japanese single TONIGHT (2013.06.05) plus its two coupling tracks.
Kim Hyun Joong (28) started his rise to popularity as a leader of Korean boy group SS501 and made his solo singing debut in 2011.
Album Imademo (今でも) comes on four editions. Limited editions include 24-page booklet and sleeve case. Limited C includes bracelet. Regular edition has 20-page booklet.
All editions include awards lottery application,
– 1400 people (700 each Tokyo Feb. 21st & Osaka Feb. 13th) invited to bracelet handing meeting with Kim Hyun Joong placing bracelet on each winner. Requires submitting application codes from 3 different editions of the album.
– Clear file or Original notes for those submitting application codes from 2 different editions of the album.
Limited edition's Blu-ray and DVD contents not yet announced.
Kim Hyun Joong – Imademo (今でも) – release date February 11th 2015
Limited A [CD+BD] (¥4444)


Limited B [CD+DVD] (¥3704)


[CD]
1. TONIGHT
2. HOT SUN
3. Gentlemen (new Japanese ver.)
4. Tsutaetai Kotoba (new) 
5. Imademo (new)
6. Kimidake wo Kesenakute
7. TIMING (feat SKY-HI)
8. Cappuccino
9. Beauty Beauty (new Japanese ver.)
10. Nothing on You (new Japanese ver.)
11. B.I.N.G.O.
12. Good-Bye
[BD]
1. contents undecided
[CD]
1. TONIGHT
2. HOT SUN
3. Gentlemen (Japanese ver.)
4. Tsutaetai Kotoba
5. Imademo
6. Kimidake wo Kesenakute
7. TIMING (feat SKY-HI)
8. Cappuccino
9. Beauty Beauty (Japanese ver.)
10. Nothing on You (Japanese ver.)
11. B.I.N.G.O.
12. Good-Bye
[DVD]
1. contents undecided
Limited C [CD+Goods] (¥3704)


Regular [CD] (¥2778)


[CD]
1. TONIGHT
2. HOT SUN
3. Gentlemen (Japanese ver.)
4. Tsutaetai Kotoba
5. Imademo
6. Kimidake wo Kesenakute
7. TIMING (feat SKY-HI)
8. Cappuccino
9. Beauty Beauty (Japanese ver.)
10. Nothing on You (Japanese ver.)
11. B.I.N.G.O.
12. Good-Bye
[CD]
1. TONIGHT
2. HOT SUN
3. Gentlemen (Japanese ver.)
4. Tsutaetai Kotoba
5. Imademo
6. Kimidake wo Kesenakute
7. TIMING (feat SKY-HI)
8. Cappuccino
9. Beauty Beauty (Japanese ver.)
10. Nothing on You (Japanese ver.)
11. B.I.N.G.O.
12. Good-Bye
Kim Hyun Joong at Universal Music Japan