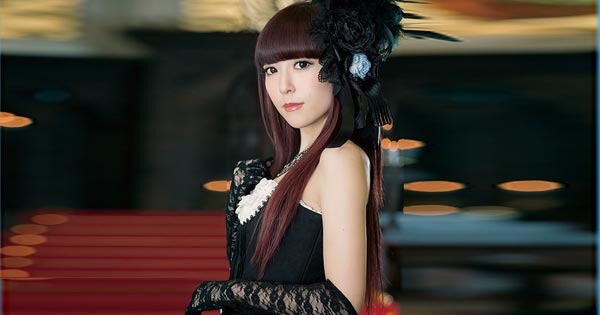 Maon Kurosaki (黒崎真音) revealed early details for new single Harmonize Clover with tie-up as ending theme song for upcoming anime School-Live! (Gakkou Gurashi!, がっこうぐらし!). For her 9th single Maon Kurosaki writes the lyrics and collaborates with Cross Katsuhiko (黒須克彦) who has composed and arranged songs for many artists including Sphere, Aya Hirano, LiSA, Nogizaka46, Aoi Eir, and more. Single Harmonize Clover comes on two editions releasing August 19th 2015.
Most recently Maon Kurosaki released 8th single Setsuna no Kajitsu (刹那の果実) on May 13th 2015. The single has tie-up as the opening theme for anime The Eden of Grisaia (Grisaia no Rakuen).
Anime School-Live! (Gakkou Gurashi!, がっこうぐらし!) is adapted from manga by Kaiho Norimitsu and Chiba Sadoru. The story follows a group of girls who decide to stay overnight at school but when morning comes they find zombies have attacked and taken over outside of the school. They have no choice but to remain living at the school.
The anime airs starting July 9th 2015 on Tokyo MX in Japan. Unit Gakuen Seikatsu-bu comprised of the anime's key voice cast Osawa Ari (Kurumi), Minase Inori (Yuki), M.A.O. (Yuri), and Takahashi Rie (Miki) provide opening theme Friend Shitai (ふ・れ・ん・ど・し・た・い).
Single Harmonize Clover comes on two editions (details subject to change). Both editions offer bonus b3-size double-sided poster Maon Kurosaki x School-Live! while supplies last.
Full track list, jacket covers, and more details coming!
Maon Kurosaki – Harmonize Clover – release date August 19th 2015
Limited [CD+DVD] (¥1800)


Regular [CD] (¥1200)


[CD]
1. Harmonize Clover
lyrics: Maon Kurosaki, composer: Cross Katsuhiko, arranger: Cross Katsuhiko, Osada Naoyuki

2. undecided
3. Harmonize Clover (off vocal)
4. undecided (off vocal)
[DVD]
1. Harmonize Clover (music video)
2. making-of music video documentary

[CD]
1. Harmonize Clover
2. undecided
3. Harmonize Clover (off vocal)
4. undecided (off vocal)