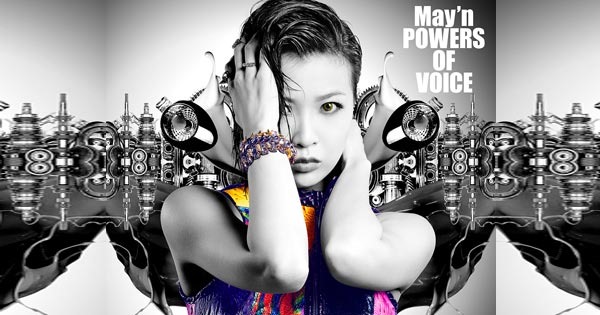 May'n brings a greatest hits album POWERS OF VOICE to celebrate her 10th anniversary. The album comes on two disks with 28 of her best songs including her singles and early releases starting with debut Diamond Crevasse / 射手座☆午後九時Don't be late (2008) featured in anime Macross Frontier. Album POWERS OF VOICE comes on three editions hitting stores August 26th 2015.
Also upcoming is the May'n 10th Anniversary Special Concert at Budokan "POWERS OF VOICE" that happens August 26th 2015. More details at special website (link below).
Most recently May'n released 11th single Yamaidare darlin' (ヤマイダレdarlin') on July 22nd 2015. As with her debut release the single composed by Yoko Kanno and has tie-up as opening theme for anime Aquarion Logos. Her 11th single isn't included on the greatest hits album.
Greatest hits album POWERS OF VOICE comes on three editions. Limited with Blu-ray contains music video collection. Limited with bonus CD has 12 tracks selected by May'n. Most stores offer bonus artist photo – image and availability varies by store.
May'n – POWERS OF VOICE – release date August 26th 2015
Limited [2CD+BD] (¥5000)


Limited [2CD+CD] (¥4000)


[DISC 1]

1.射手座☆午後九時Don't be late
2.Diamond Crevasse
3.Northern Cross
4.May'n☆Space
5.キミシニタモウコトナカレ
6.Ready Go!
7.pink monsoon
8.Universal Bunny
9.Grand Piano
10.my teens, my tears
11.Ai wa furu hoshi nogotoku
12.Shinjitemiru
13.Deep Breathing

[DISC 2]
1.Scarlet Ballet  
2.Brain Diver
3.Moshimo kimi ga negau nonara
4.Chase the world 
5.Aozora
6.Mr. Super Future Star 
7.HEAT of the moment
8.Run Real Run 
9.ViViD 
10.今日に恋色
11.Lose My Illusions
12.Re:REMEMBER 
【Bonus Track ~May'n self-cover】
13.Crazy Crazy Crazy -May'n ver.-
14.Sympathy -May'n ver.-
15.Fallin'in or Not -May'n ver.-

[BD] May'n MUSIC CLIPS
1. May'n☆Space
2. キミシニタモウコトナカレ
3. Ready Go!
4. Shinjitemiru
5. Deep Breathing
6. Scarlet Ballet
7. Brain Diver
8. Moshimo kimi ga negau nonara
9. Chase the world
10. Mr.Super Future Star
11. HEAT of the moment
12. Run Real Run
13. ViViD
14. Kyō ni koiro
15. Lose My Illusions
16. Re:REMEMBER

[DISC 1]
1. 射手座☆午後九時Don't be late
2.Diamond Crevasse
3.Northern Cross
4.May'n☆Space
5.キミシニタモウコトナカレ
6.Ready Go!
7.pink monsoon
8.Universal Bunny
9.Grand Piano
10.my teens, my tears
11.Ai wa furu hoshi nogotoku
12.Shinjitemiru
13.Deep Breathing

[DISC 2]
1.Scarlet Ballet  
2.Brain Diver
3.Moshimo kimi ga negau nonara
4.Chase the world 
5.Aozora
6.Mr. Super Future Star 
7.HEAT of the moment
8.Run Real Run 
9.ViViD 
10.今日に恋色
11.Lose My Illusions
12.Re:REMEMBER 
【Bonus Track ~May'n self-cover】
13.Crazy Crazy Crazy -May'n ver.-
14.Sympathy -May'n ver.-
15.Fallin'in or Not -May'n ver.-

May'n Selection Special CD
1.Rock Your Beats
2.Get Ready
3.誰がために
4.Standing bird
5.Swan
6.Phonic Nation
7.ユズレナイ想ヒ
8.BLUE
9.リーベ~幻の光
10.WHY?
11.Watashi no Shirushi
12.WE ARE

Regular [2CD] (¥3000)



[DISC 1]
1. 射手座☆午後九時Don't be late
2.Diamond Crevasse
3.Northern Cross
4.May'n☆Space
5.キミシニタモウコトナカレ
6.Ready Go!
7.pink monsoon
8.Universal Bunny
9.Grand Piano
10.my teens, my tears
11.Ai wa furu hoshi nogotoku
12.Shinjitemiru
13.Deep Breathing

[DISC 2]
1.Scarlet Ballet  
2.Brain Diver
3.Moshimo kimi ga negau nonara
4.Chase the world 
5.Aozora
6.Mr. Super Future Star 
7.HEAT of the moment
8.Run Real Run 
9.ViViD 
10.今日に恋色
11.Lose My Illusions
12.Re:REMEMBER 
【Bonus Track ~May'n self-cover】
13.Crazy Crazy Crazy -May'n ver.-
14.Sympathy -May'n ver.-
15.Fallin'in or Not -May'n ver.-
May'n POWERS OF VOICE special site