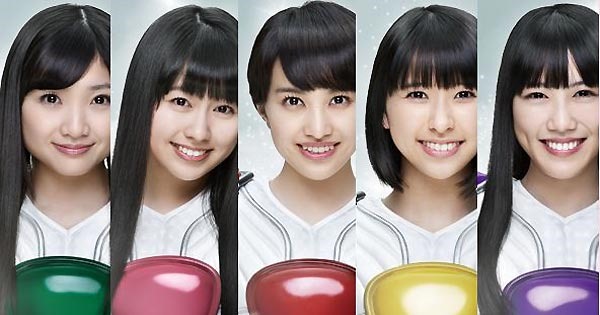 Momoiro Clover Z (ももいろクローバーZ) announced they are bringing their 3rd and 4th original albums out together in early 2016. The albums aren't yet titled and track lists not revealed. Its been over two years since the idol group released 2nd album 5th DIMENSION (2013.04.10). Their 3rd and 4th albums both come on two editions and all scheduled for release on February 17th 2016.
~ AMARANTHUS and Hakkin no Yoake updated release details ~
Popular idol unit Momoiro Clover Z (Momoclo) most recently released 15th single "Z" no Chikai ('Z'の誓い) on April 29th 2015. The single, now released on iTunes worldwide, has tie-up as the theme song for anime movie Dragon Ball Z Revival 'F' (Dragon Ball Z Fukkatsu no F).
The 15th single completed a 3 Singles Project with a special bonus for fans purchasing all three. The first two singles of the project – Momoiro Clover Z vs KISS collaboration Yume no Ukiuyo ni Saitemina (夢の浮世に咲いてみな) (2015.01.28) and 14th single Seishunfu (青春賦) (2015.03.11)(more details). Bonuses include an awards drawing and ticket lottery to attend a special 3 SINGLES PROJECT LIVE planned for fall 2015. More details a special website (link below).
Their new (untitled) albums are available for pre-order now. Titles, jacket covers, track lists, and more details coming!
Promo video for their Momochri Christmas 2014 Saitama Super Arena ~ Shining Snow Story ~ two-day event release after album release details.
Momoiro Clover Z – 3rd album (untitled) – release date February 17th 2016
Limited [CD+BD] (¥3800)


Regular [CD] (¥2800)


[CD]
Contents undecided
[BD]
Contents undecided
[CD]
Contents undecided
Momoiro Clover Z – 4th album (untitled) – release date February 17th 2016
Limited [CD+DVD] (¥3800)


Regular [CD] (¥2800)


[CD]
Contents undecided
[DVD]
Contents undecided
[CD]
Contents undecided
Momoiro Clover Z Official site