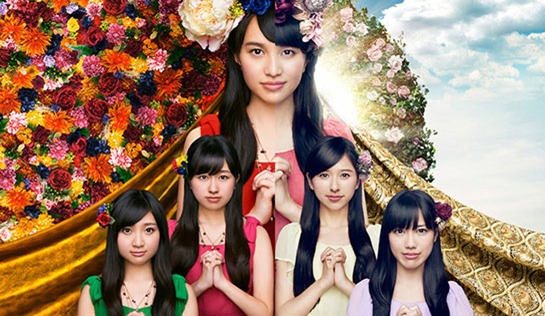 Momoiro Clover Z (ももいろクローバーZ) is getting ready to release albums AMARANTHUS and Hakkin no Yoake (白金の夜明け) simultaneously. Jacket covers, full track list, bonuses, and teaser videos revealed. Their 3rd album AMARANTHUS and 4th album Hakkin no Yoake both come on two editions hitting stores February 17th 2016.
Tied to the new albums is the Momoiro Clover Z DOME TREK 2016 with two performances at venues themed on each album.
– Feb 20th & 21st Nagoya Dome
– Feb 27th 2016 Sapporo Dome (combined)
– March 12th & 13th 2016 Osaka Kyocera Dome
– March 26th & 27th 2016 Fukuoka Dome
– April 2nd & 3rd 2016 Saitama Seibu Prince Dome
More details at special site – link and tour promo video below.
Their new albums each include two singles released since 2nd album 5TH DIMENSION (2013.04.10) plus new songs for 14 track each. Their KISS collaboration single Yume no Ukiuyo ni Saitemina (夢の浮世に咲いてみな) and limited release songs aren't included.
Limited editions of both albums include deluxe box.
Bonus trading card with either edition – images and availability varies by store (common store samples). Select in-store outlets include bonus poster.
Album promo and teaser videos plus dome live tour  promo all after release details.
Momoiro Clover Z –AMARANTHUS – release date February 17th 2016
Limited [CD+BD] (¥3800)


Regular [CD] (¥2800)


[CD]
1. embryo – prologue –
2. WE ARE BORN
3. Monoclo Dessan
4. Gorilla Punch
5. Buryoutougen Nakayoshi Monogatari
6. Katte ni Kimi ni
7. Seishunfu (13th sgl)
8. Saboten to Ribbon
9. Demonstration
10. Bussouge (Hibiscus)
11. Naitemo Iindayo (11th sgl)
12. Guns N' Diamond
13. Bye Bye de Sayonara
14. HAPPY Re:BIRTHDAY

[BD]
1. WE ARE BORN (music video)
2. Monoclo Dessan (documentary video)
3. Documentary of AMARANTHUS

[CD]
1. embryo – prologue –
2. WE ARE BORN
3. Monoclo Dessan
4. Gorilla Punch
5. Buryoutougen Nakayoshi Monogatari
6. Katte ni Kimi ni
7. Seishunfu
8. Saboten to Ribbon
9. Demonstration
10. Bussouge (Hibiscus)
11. Naitemo Iindayo
12. Guns N' Diamond
13. Bye Bye de Sayonara
14. HAPPY Re:BIRTHDAY
Momoiro Clover Z – Hakkin no Yoake – release date February 17th 2016
Limited [CD+BD] (¥3800)


Regular [CD] (¥2800)


[CD]         
1. Ko no A, Hajimari no Z ~ prologue ~
2. Tougenkyou
3. Hakkin no Yoake
4. Mahalo Vacation
5. Yume no Ukiyo ni Saite Mina
6. ROCK THE BOAT
7. Kibo no Mukou e
8. Country Rose – Toi no Tabibito –
9. Imagination
10. MOON PRIDE (12th sgl)
11. "Z" no Chikai (14th sgl)
12. Ai wo Tsugu Mono
13. Mokkuro Ninaru Hate
14. Momoiro Sora

[BD]         
1. Mahalo Vacation (music video)
2. Hakkin no Yoake (music video)
3. Documentary Hakken no Yoake

[CD]
1. Ko no A, Hajimari no Z ~ prologue ~
2. Tougenkyou
3. Hakkin no Yoake
4. Mahalo Vacation
5. Yume no Ukiyo ni Saite Mina
6. ROCK THE BOAT
7. Kibo no Mukou e
8. Country Rose – Toi no Tabibito –
9. Imagination
10. MOON PRIDE
11. "Z" no Chikai
12. Ai wo Tsugu Mono
13. Mokkuro Ninaru Hate
14. Momoiro
Momoiro Clover Z Official site