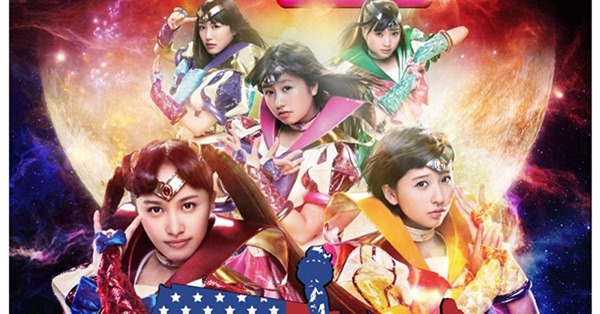 Momoiro Clover Z will return to America for a 3-city "Trans-America Ultra Live Tour" November 15th-19th 2016, with stops in Hawaii, New York, and Los Angeles. The 5-girl Japanese pop idol unit made their last appearance on U.S. shores at Anime Expo 2015, joined on stage by Paul Stanley and Gene Simmons of KISS celebrating their hit single Yume no Ukiyo ni Saitemina. The Momoclo x KISS collaboration single topped the Oricon Japanese Singles chart and Amazon's Japanese Pop chart, the highest-charting single ever by a Japanese artist and international artist.
Momoiro Clover Z has contributed music to some of the world's most popular anime programs and films, including Dragon Ball Z: Resurrection 'F', Sailor Moon Crystal, and Pokemon. In 2014, they were chosen as one of the opening acts for Lady Gaga's tour of Japan.
A limited number of VIP tickets will be available for the each city, and will include an exclusive pre-show special talk with the artist, titled "JUSTICE WITH MOMOIRO CLOVER Z", where the group will personally discuss their history exclusively with their "mononofu" fans.
Ticket and venue information:
Honolulu – November 15 (Tue) 2016 The Republik (tickets)
Los Angeles – November 17 (Thu) 2016 The Wiltern (tickets)
New York – November 19 (Sat) 2016 Playstation Theater (tickets)
ABOUT MOMOIRO CLOVER Z
Momoiro Clover Z is a girls unit featuring Kanako Momota, Shiori Tamai, Ayaka Sasaki, Momoka Ariyasu and Reni Takagi and they started their career from 2008. Single Ikuze! Kaitou Shoujo, released in 2010 marked No. 1 on the Oricon daily chart, which is just like the Billboard Chart and they immersed themselves in the Japanese music scene.
VIDEO: Momoiro Clover Z – Pledge of Z (from Dragon Ball Z: Resurrection 'F')
They have collaborated with various cultural stuffs, such as anime, Rock, professional wrestling etc. and they have established their unique status. Their collaboration with anime is especially strong and they have been in charge of the main theme for Pokemon: Best Wishes, Bodacious Space Pirates, Joshiraku and Dragon Crisis and so on. In 2014, they were in charge of the main and the ending theme for Pretty Guardian Sailor Moon Crystal, whose new series have started after about 20 years and also the main theme for the film Dragon Ball Z: Resurrection 'F' in 2015. Momoiro Clover Z is the first and only artist, who sang the main theme for the worldwide well known 3 anime that Japan boasts to the world.
Although they are idol, they have strong recognition among anime industry. They have attended the world biggest ani-song live event "Animelo Summer Live" three times, and their appearance of 2015 is already announced. They have collaborated live with Ichiro Mizuki and Mitsuko Horie who are both known as 2 of four heavenly kings, as well as Akira Kushida known as singing the theme song of Kinnikuman, Fumihiko Tachiki known as Gendo Ikari of Neon Genesis Evangelion, and the popular unit of voice actresses called sphere. All these collaborations with famous singers and voice actors/actresses at live shows are critically-acclaimed.
VIDEO: Momoclo returns to Kanagawa Nisssan Stadium August 13th & 14th 2016
Momoiro Clover Z is highly regarded not only in the anime industry, but also in Japan. They performed at a singing contest between a male and a female team of popular singers, sponsored annually by NHK on New Year's Eve (known as Kohaku Uta Gassen) three years in a row. Their show in 2014, held at the renowned Kokuritsu Kyogijo, was realized in the shortest time spent by a female group artist, took only 6 years to accomplish since the group was formed. They drew 150,000 people for 2 days including the audience at the live viewing sites, which got much-hyped. Their live performance builds a reputation as it's regarded as "King of Live". Their live shows drew about 480,000 audience in 2014, which is the highest record for female group artists (according to a survey by Nikkei Entertainment).
Press release via RESONANCE Media
Momoiro Clover Z (japan)
Momoiro Clover Z (global)