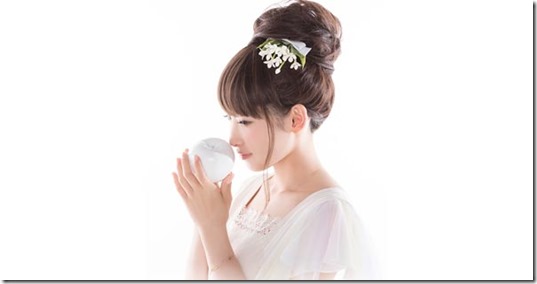 Nanjo Yoshino (南條愛乃) announced two singles – Tasogare no Starlight (黄昏のスタアライト) and Kimi wo Sagashi ni (きみを探しに) with tie-ups as ending themes for upcoming anime The Eden of Grisaia the sequel to anime The Fruit of Grisaia. Both singles are produced by Elements Garden and come on two editions with Tasogare no Starlight releasing April 29th 2015 and Kimi wo Sagashi ni releasing June 10th 2015. Read on for more details.
Voice actor, songwriter, and singer Nanjo Yoshino (30) also provided the main ending theme for the first season of anime The Fruit of Grisaia with her 2nd solo single Anata no Aishita Sekai (あなたの愛した世界). The single released November 5th 2015 and includes coupling track Dear x Dear with lyrics written by Nanjo Yoshino.
Nanjo Yoshino also forms one half of unit fripSide (since 2009) providing the vocals for producer and sound creator Satoshi Yaginuma. The unit released 3rd album infinite synthesis 2 on September 10th 2014 (more details). Additionally she has participated on numerous anime singles and OP/ED songs in character voice including being one part of fictional idol group μ's (Muse) and voicing character Ayase Eli for the anime/game franchise Love Live! School Idol Project.
Anime The Fruit of Grisaia (Grisaia no Kajitsu, Le Fruit de la Grisaia, グリザイアの果実) is adapted from adult game from Front Wing. The story takes place at private Mihama Academy and follows Kazami Yuji, a foreign exchange student with a dark past. He meets five classmates as they uncover the past and open their hearts.
The anime's first season aired October-December 2014 and the second season The Eden of Grisaia begins April 2015. Outside of Japan provider Crunchyroll has season one available on-demand and is likely to simulcast season 2. Hit the link for The Fruit of Grisaia for episodes and related stories for both seasons.
The anime's opening theme is again provided by Maon Kurosaki this time with her 8th single Setsuna no Kajitsu (刹那の果実).
Both singles comes on two editions (details subject to change). Limited editions includes a The Fruit of Grisaia ChaosTCG PR card.
Full track list, jacket covers, and more details coming!
Nanjo Yoshino – Tasogare no Starlight (黄昏のスタアライト) – release date April 29th 2015
Limited [CD+DVD] (¥1800)


Regular [CD] (¥1200)


[CD]
1. Tasogare no Starlight
2. undecided
3. Tasogare no Starlight (off vocal)
4. undecided
[DVD]
1. Tasogare no Starlight (music video)
2. making-of music video footage
3. TVCM spot(s)
[CD]
1. Tasogare no Starlight
2. undecided
3. Tasogare no Starlight (off vocal)
4. undecided
Nanjo Yoshino – Kimi wo Sagashi ni (きみを探しに) – release date June 10th 2015
Limited [CD+DVD] (¥1800)


Regular [CD] (¥1200)


[CD]
1. Kimi wo Sagashi ni
2. undecided
3. Kimi wo Sagashi ni (off vocal)
4. undecided
[DVD]
1. Kimi wo Sagashi ni (music video)
2. making-of music video footage
3. TVCM spot(s)
[CD]
1. Kimi wo Sagashi ni
2. undecided
3. Kimi wo Sagashi ni (off vocal)
4. undecided