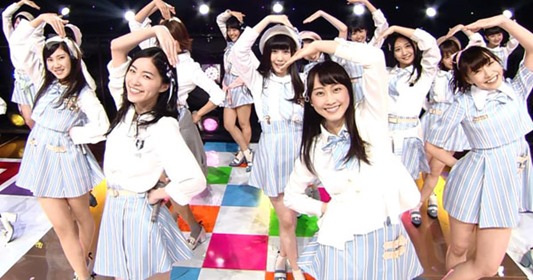 SKE48 recently announced their first single of 2015 – Coquettish Juutai Chuu (コケティッシュ渋滞中) that's set for release on March 31st 2015. The single features team aces Matsui Jurina and Matsui Rena as centers and energetic dance choreography. Single Coquettish Juutai Chuu comes on 4 pairs of editions plus the theater version – read on for more details.
~ jacket covers and preview music video unveiled ~
The AKB48 sister group most recently released 16th single 12-Gatsu no Kangaroo (Jyuunigatsu no Kangaroo,12月のカンガルー) on December 10th 2014. The single featured first time centers Kitagawa Ryouha (北川綾巴) and Miyamae Ami (宮前杏実) (more details and PVs).
SKE48's 17th single returns to featuring Matsui Jurina and Matsui Rena as centers along with 19 other members participating on the single's title song. Several members selected to the senbatsu for the first time (bold),
Team S: Azuma Rion, Oya Masana, Kitagawa Ryoha, Futamura Haruka, Matsui Jurina, Miyamae Ami, Miyazawa Sae
Team KII: Ego Yuna, Oba Mina, Goudo Saki, Takayanagi Akane, Furuhata Nao, Souda Sarina
Team E: Isohara Kyoka, Kimoto Kanon, Tani Marika, Sato Sumire, Shibata Aya, Suda Akari, Matsui Rena
Kenkyuusei: Matsumura Kaori
Single Coquettish Juutai Chuu comes on four pairs of Limited/Regular editions plus a theater CD-only version. Each edition pair has a different coupling track and DVD contents. Limited editions have different jacket covers and include a handshake event ticket and member photo (selection varies by edition).
Jacket covers and full track list coming!
SKE48 – Coquettish Juutai Chuu – release date December 10th 2014
Limited A [CD+DVD] (¥1524)


Regular A [CD+DVD] (¥1524)


[CD]
1. Coquettish Juutai Chuu 
2. undecided (Team S)
3. undecided (main coupling)
4. Coquettish Juutai Chuu (off vocal)
5. undecided (off vocal)
6. undecided (off vocal)
[DVD]
1. Coquettish Juutai Chuu (music video)
2. undecided (music video)
3. original bonus A
[CD]
1. Coquettish Juutai Chuu 
2. undecided (Team S)
3. undecided (main coupling)
4. Coquettish Juutai Chuu (off vocal)
5. undecided (off vocal)
6. undecided (off vocal)
[DVD]
1. Coquettish Juutai Chuu (music video)
2. undecided (music video)
3. original bonus A
Limited B [CD+DVD] (¥1524)


Regular B [CD+DVD] (¥1524)


[CD]
1. Coquettish Juutai Chuu 
2. undecided (Team KII)
3. undecided (main coupling)
4. Coquettish Juutai Chuu (off vocal)
5. undecided (off vocal)
6. undecided (off vocal)
[DVD]
1. Coquettish Juutai Chuu (music video)
2. undecided (music video)
3. original bonus B
[CD]
1. Coquettish Juutai Chuu 
2. undecided (Team KII)
3. undecided (main coupling)
4. Coquettish Juutai Chuu (off vocal)
5. undecided (off vocal)
6. undecided (off vocal)
[DVD]
1. Coquettish Juutai Chuu (music video)
2. undecided (music video)
3. original bonus B
Limited C [CD+DVD] (¥1524)


Regular C [CD+DVD] (¥1524)


[CD]
1. Coquettish Juutai Chuu 
2. undecided (Team E)
3. undecided (main coupling)
4. Coquettish Juutai Chuu (off vocal)
5. undecided (off vocal)
6. undecided (off vocal)
[DVD]
1. Coquettish Juutai Chuu (music video)
2. undecided (music video)
3. original bonus C
[CD]
1. Coquettish Juutai Chuu 
2. undecided (Team E)
3. undecided (main coupling)
4. Coquettish Juutai Chuu (off vocal)
5. undecided (off vocal)
6. undecided (off vocal)
[DVD]
1. Coquettish Juutai Chuu (music video)
2. undecided (music video)
3. original bonus C
Limited D [CD+DVD] (¥1524)


Regular D [CD+DVD] (¥1524)


[CD]
1. Coquettish Juutai Chuu 
2. undecided (special unit)
3. undecided (main coupling)
4. Coquettish Juutai Chuu (off vocal)
5. undecided (off vocal)
6. undecided (off vocal)
[DVD]
1. Coquettish Juutai Chuu (music video)
2. undecided (music video)
3. original bonus D
[CD]
1. Coquettish Juutai Chuu 
2. undecided (special unit)
3. undecided (main coupling)
4. Coquettish Juutai Chuu (off vocal)
5. undecided (off vocal)
6. undecided (off vocal)
[DVD]
1. Coquettish Juutai Chuu (music video)
2. undecided (music video)
3. original bonus D
Theater [CD] (¥1000)

 
[CD]
1. Coquettish Juutai Chuu 
2. undecided 
3. undecided (main coupling)
4. Coquettish Juutai Chuu (off vocal)
5. undecided (off vocal)
6. undecided (off vocal)