KAT-TUN is getting ready to release 25th single TRAGEDY with tie-up a opening theme #2 for season two of anime The File of Young Kindaichi Returns (Kindaichi Shounen no Jikenbo R). The single also includes track Atsuku Nare (熱くなれ) featured as theme for NTV Going! Sports & News show. Single TRAGEDY comes on three editions hitting stores February 10th 2016.
Popular Johnny's vocal/acting unit KAT-TUN also has their 26th single UNLOCK coming up for release on March 2nd 2016. The title track has tie-up as theme song for TV drama series Kaito Yamaneko staring member Kamenashi Kazuya.
Anime The File of Young Kindaichi Returns is adapted from manga by Amagi Seimaru and Sato Fumiya (illustrations). It's a continuation of original Kindaichi Case Files manga with anime adaption in 1997. The story follows mystery-solving Kindaichi Hajime the grandson of famous detective Kindaichi Kosuke. Normally a regular high school student Kindaichi along with friend Nanase Miyuki, inspector Kenmochi Isamu and rival Akenchi Kengo spring into action whenever a difficult mystery appears.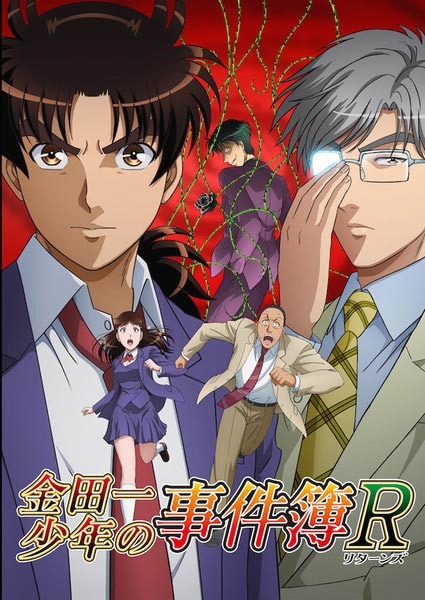 The anime's first season aired April-September 2014 and season two began October 2015. Outside of Japan provider Crunchyroll simulcasts new episodes and has all episodes available on-demand. Hit the link for The File of Young Kindaichi Returns for episodes and related stories.
Single TRAGEDY comes on three editions plus a bundled 3-set. Each edition includes different coupling tracks. Limited A adds 16-page booklet. Limited B adds 8-panel lyrics card. Regular includes 8-panel lyrics card plus additional coupling tracks. Most stores offer bonus poster with either edition purchased (type varies by edition) -  availability varies by store.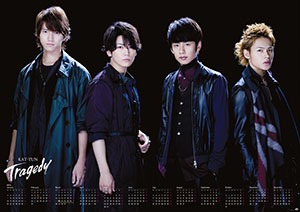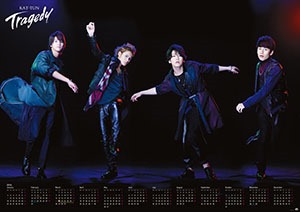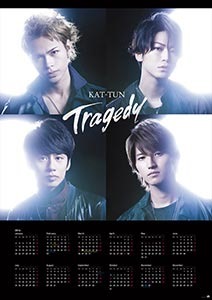 KAT-TUN – TRAGEDY – release date February 10th 2016
Limited A [CD+DVD] (¥1400)


Limited B [CD] (¥1300)


[CD]
1. TRAGEDY
2. TOKYO STARRY

[DVD]
1. TRAGEDY (music video)
2. making-of music video documentary

[CD]
1. TRAGEDY
2. Atsuku Nare (NTV Going! Sports & News theme)

[DVD]
1. Atsuku Nare (music video)
2. making-of music video documentary

Regular [CD] (¥1100)


Bundled 3-set (¥3800)


[CD]
1. TRAGEDY
2. Atsuku Nare
3. FEATHERS
4. TWILIGHT
5. TRAGEDY (off vocal)
6. Atsuku Nare (off vocal)
 
KAT-TUN official site (Johnny's net)