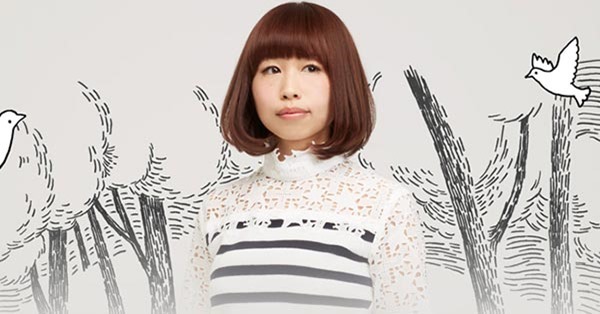 Nagi Yanagi (やなぎなぎ) revealed preview music video for new song Terminal included on her upcoming album Follow My Tracks. Her 3rd original album includes singles and new songs with 13 total tracks. Album Follow My Tracks comes on three editions hitting stores April 20th 2016.
The new album includes her three singles released single 2nd album Polyomino (2014.12.10),
– Kazakiri (カザキリ) sgl 12th 2016.02.24 OP Norn9: Norn + Nonette
– Orarion (オラリオン) sgl 11th 2015.12.09 ED Seraph of the End: Battle in Nagoya
– Haru Modoki (春擬き) sgl 10th 2015.06.03 OP My Teen Romantic Comedy SNAFU TOO!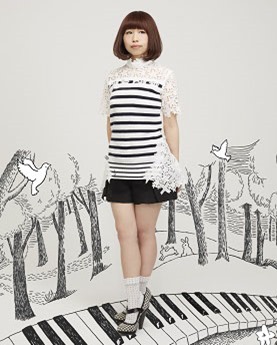 All album tracks (except Wanrumu Travel) are written by Nagi and new song Terminal gets tie-up as opening theme for NTV music show Buzz Rhythm during April 2016.

Album Follow My Tracks comes on three editions. Limited editions include bonus CD with re-arranged acoustic versions of five singles. First Press versions add bonus that varies by store (neowing/cdJapan ticket holder).
Preview music video for Terminal after the release details.
Nagi Yanagi – Follow My Tracks – release date April 20th 2016
Limited A [CD+BD] (¥4200)


Limited B [CD+DVD] (¥4000)


[CD]
1. Follow My Tracks
lyrics, music: Nagi Yanagi

2. Haru Modoki
lyrics: Nagi Yanagi, music: Kitagawa Katsutoshi

3. Camelback no Machi
lyrics,composer: Nagi Yanagi, arranger: Koresawa

4. rooter's song
lyrics: Nagi Yanagi, music: Ruta

5. Parallel Elevator
lyrics: Nagi Yanagi, music Taniguchi Naohisa

6. Monochrome Silent City
lyrics, music: Nagi Yanagi

7. Orarion
lyrics: Nagi Yanagi, music: Fujima Jin

8. Yoru Tenmaku
lyrics: Nagi Yanagi, music: nishi-ken,Takada Tsubasa

9. Wanrumu Travel
lyrics, music: 40mP

10. Kazakiri
lyrics: Nagi Yanagi, composer: Aiba Jun, arranger: Dewa Yoshiaki

11. Mirai Pencil
lyrics: Nagi Yanagi, music: Saito Shinya

12. Terminal
lyrics: Nagi Yanagi, music: Kitagawa Katsutoshi

13. Dokoni mo Ikanai
lyrics, music: Nagi Yanagi

[CD2] Acoustic Versions
1. Yukitoki
lyrics: Nagi Yanagi, composer: Kitagawa Katsutoshi, arranger:Dewa Yoshiaki

2. Sweet Track
lyrics: Nagi Yangi, Kusuno Kotaro, music: Kusuno Kotaro Dewa Yoshiaki

3. Mitsuba no Musubime 
lyrics: Nagi Yanagi, music: Dewa Yoshiaki

4. Vidro Moyou  
lyrics: Nagi Yanagi, composer: Nakazawa Tomoyuki, arranger: Dewa Yoshiaki

5. Haru Modoki 
lyrics: Nagi Yanagi, composer: Kitagawa Katsutoshi, arranger: Dewa Yoshiaki

[BD]
October 2015 color palette ~2015 Silver + Gold ~ Live performance

[CD]
1. Follow My Tracks
2. Haru Modoki
3. Camelback no Machi
4. rooter's song
5. Parallel Elevator
6. Monochrome Silent City
7. Orarion
8. Yoru Tenmaku
9. Wanrumu Travel
10. Kazakiri
11. Mirai Pencil
12. Terminal
13. Dokoni mo Ikanai

[CD2] Acoustic Versions
1. Yukitoki
2. Sweet Track
3. Mitsuba no Musubime 
4. Vidro Moyou
5. Haru Modoki 

[DVD]
October 2015 color palette ~2015 Silver + Gold ~ Live performance

Regular [CD] (¥3000)


[CD]
1. Follow My Tracks
2. Haru Modoki
3. Camelback no Machi
4. rooter's song
5. Parallel Elevator
6. Monochrome Silent City
7. Orarion
8. Yoru Tenmaku
9. Wanrumu Travel
10. Kazakiri
11. Mirai Pencil
12. Terminal
13. Dokoni mo Ikanai