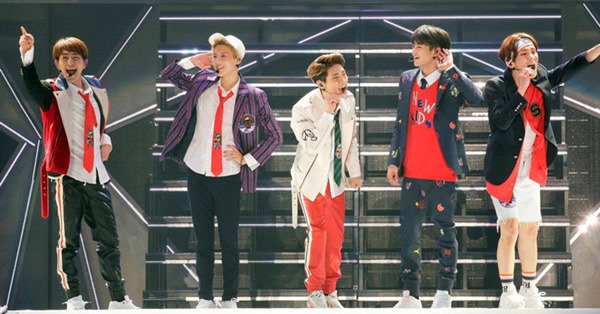 SHINee revealed details for new Japanese single Kimi no Sei de (君のせいで). Their 13th Japanese single will be a medium-pop ballad with lyrics said to express deep emotions. Single Kimi no Sei de (Because of You) comes on two editions plus fanclub versions each with a different member solo jacket – all hit stores May 18th 2016.
~ PV and jacket cover revealed ~
Korean unit SHINee most recently released 4th Japanese album DxDxD on January 1st 2016. The album includes their 12th Japanese single Sing Your Song (2015.10.27) and 11th single Your Number (2015.03.11) plus 10 other songs for 12 total tracks.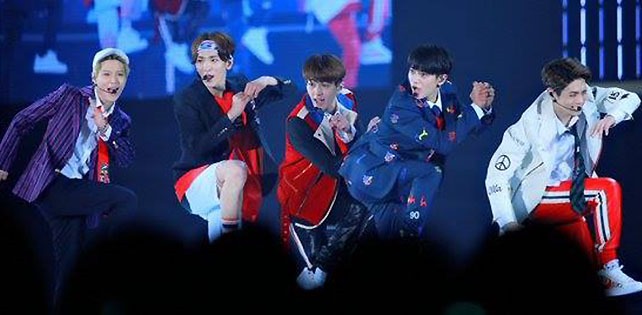 (images from the start of their 2016 arena tour at Marine Messe Fukuoka January 30th 2016 via EMI records)
The group is in the middle of their 2016 Japanese arena tour – SHINee WORLD 2016 DxDxD – with 15 performances at 8 venues. The tour is at Yoyogi National Stadium Tokyo for three performances – March 24th, 25th, & 26th. It continues on with seven performances in April and finishes with performances May 14th & 15th Kyocera Dome Osaka plus tour final May 18th & 19th 2016 at Tokyo Dome. More details at their website (link below).
Single Kimi no Sei do comes on two editions plus fanclub versions. Limited edition includes 24-page photo booklet. Regular edition includes 12-page photo booklet, trading card (1 of 5)(First Press), plus bonus karaoke tracks. Five fanclub versions each have different member solo jacket cover/disk image.
Music video DxDxD from 4th Japanese album after the release details.
SHINee – Kimi no Sei de – release date May 18th 2016
Limited A [CD+DVD] (¥1852)


Regular [CD] (¥1204)


[CD]
1. Kimi no Sei de
2. Nothing to Lose
 
[DVD]
1. Kimi no Se de (music video)
[CD]
1. Kimi no Sei de
2. Nothing to Lose
3. Kimi no Sei de (off vocal)
2. Nothing to Lose (off vocal)
Fanclub solo jacket [CD] (¥800)
        
[CD]
1. Kimi no Sei de
2. Nothing to Lose
SHINee Official Japanese website