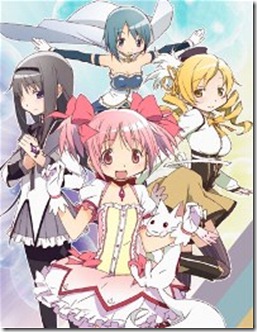 The first ever Kadokawa Shoten's Newtype Anime Awards were awarded Saturday during the Machi Asobi Vol. 7 event in Tokushima. Leading all was anime series Puella Magi Madoka Magica which won 12 of the 21 awards out right and 2 of the seiyuu awards were could also be attributed to the series though no specific role was noted.
Other shows winning were, Macross Frontier: Sayonara no Tsubasa for anime film, Steins;Gate's Rintarō Okabe as best male character, Tiger & Bunny for mech designs.  In the seiyuu (voice actor) categories – Mamoru Miyano best male, Aoi Yūki best female, Keiji Fujiwara best supporting male, and Chiwa Saito best supporting female. All results after the jump…
The Newtype Awards cover any anime released between October 2010 and July 2011 and visitors to Newtype's website could vote for the 21 different categories.
---
Title of the Year

Puella Magi Madoka Magica

Female Character

Homura Akemi (Puella Magi Madoka Magica)

Male Character

Rintarō Okabe (Steins;Gate)  

Soundtrack

Puella Magi Madoka Magica (Music: Yuki Kajiura)

Theme Song

"Connect" (Puella Magi Madoka Magica)

Anime Film

Macross Frontier: Sayonara no Tsubasa

Direction

Puella Magi Madoka Magica (Director: Akiyuki Shinbo)

Scenario

Puella Magi Madoka Magica

Character Design

Puella Magi Madoka Magica

Mecha Design

Tiger & Bunny

Photography

Puella Magi Madoka Magica

Art

Puella Magi Madoka Magica

Color Design

Puella Magi Madoka Magica

Effects

Puella Magi Madoka Magica

Commercial

The IDOLM@STER

Game Opening Animation

Tales of Xillia

Lead Voice Actor

Mamoru Miyano (Steins; Gate – Rintaro)

Lead Voice Actress

Aoi Yūki (Madoka Magic – Madoka)

Supporting Voice Actor

Keiji Fujiwara (Tiger & Bunny – Jake)

Supporting Voice Actress

Chiwa Saito (Madoka Magica – Homura)

Mascot Character

Kyubey (Puella Magi Madoka Magica)
Source: ANN, Tokushima Shimbun