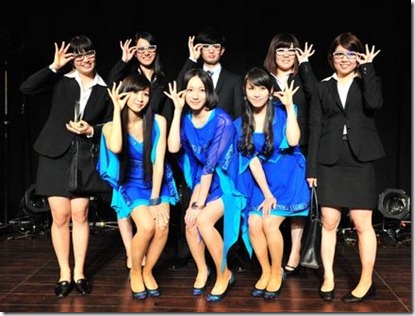 Beginning with 500 teams who submitted videos of their dance routines, 10 were selected for the finals of the "Perfume Dance Contest Miseyo JPN!" held on the 29th at Shinagawa Stellar Ball in Tokyo. Perfume helped judge the three month contest and participated in the live finals. The event was promoted at MiseyoJPN Youtube channel and finals were streamed live to 11,000 views on USTREAM.
The teams were to use similar choreography to Perfume's "GLITTER" but in their own creative way.
The winning team #9 "Employment Ice Age" consisting of one male and four women were dressed in business suits and glasses and each had a hand-bag and newspaper. They expressed in dance the story of the company employee while using props such as their shoes.  The team said to represent that only one out of five persons searching for jobs are employed.
After the awards ceremony, Perfume meet with the excited winners and they collaborated on a short dance performance to "GLITTER."
Photos and video clips on jump,
---
---
Video clip of Perfume reviewing the contest finalist videos and message from the girls.
Perfume reviews videos selecting finalists
Source and images: natalie