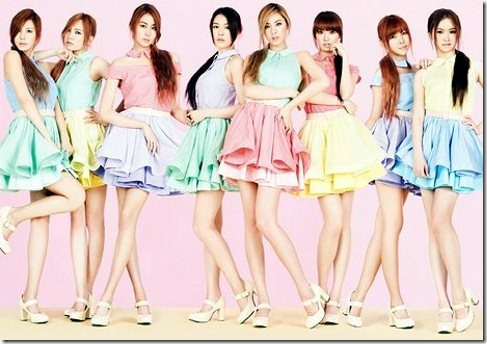 AFTERSCHOOL has just revealed the jacket covers and official track list for new single "Lady Luck / Dilly Dally". This single is the group's 4th Japanese single, a double-A side release, which is due out June 13th. Both the tracks are featured as CM (Commercial Message) theme songs: "Lady Luck" for Samantha Thavasa products and "Dilly Dally" for Rexena products. Also just announced is the 3rd coupling track available only on the Regular edition "SLOW LOVE" has a tie-up with LIXIL "Artful Home" home products. Updated release details follow,
We previously posted article on this release with tentative details that are now updated.
The single comes in three editions:
– Limited A with bonus DVD that includes music video and off-shoot footage for "Lady Luck".
– Limited B with bonus DVD with "FIRST JAPAN TOUR 2012 PLAYGIRLZ DOCUMENTARY MOVIE" and "FIRST JAPAN TOUR 2012 PLAYGIRLZ LIVE MOVIE".
– Regular CD-only edition that adds bonus track "SLOW LOVE" and off-vocal version of all three tracks (6 total).
First Press versions are offered on all three editions and add a trading card ( 1 of 8 ) and special event ticket.
AFTERSCHOOL – "Lady Luck / Dilly Dally" – release date June 13th 2012
Limited A [CD+DVD] (¥1890)


Limited B [CD+DVD] (¥1890)


[CD]
1. Lady Luck
2. Dilly Dally
[DVD]
1. Lady Luck (music video)
2. Lady Lucky (off shoot)
[CD]
1. Lady Luck
2. Dilly Dally
[DVD]
1. FIRST JAPAN TOUR 2012 PLAYGIRLZ DOCUMENTARY movie
2. FIRST JAPAN TOUR 2012 PLAYGIRLZ – Live event movie
Regular [CD] (¥1000)


[CD]
1. Lady Luck
2. Dilly Dally
3. SLOW LOVE
4. Lady Luck (off vocal)
5. Dilly Dally (off vocal)
6. SLOW LOVE (off vocal)
Rexena Products AFTERSCHOOL off-shoot video