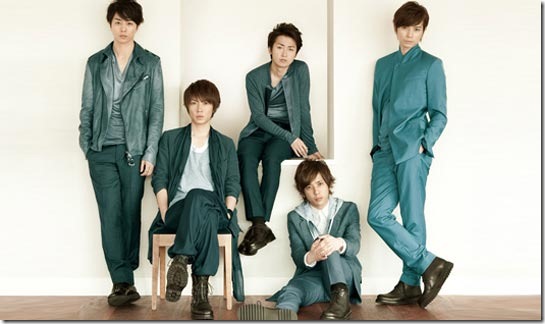 Arashi has announced their 11th album "Popcorn" which includes their 4 singles released since their 10th album "Beautiful World" which came just over a year ago. Their new album tracks will also have 7 new songs and 5 member solo songs for a total of 16 tracks. "Popcorn" is scheduled for release on October 31st – more early release details follow…
* updated release info – here
Arashi's new album "Popcorn" includes their three singles released in 2012 -  "Wild at Heart" on March 7th, "Face Down" on May 9th, and "Your Eyes" on June 6th plus "Meikyu Love Song" which released on November 9th 2011. The album also includes new songs "Akashi" and "Kakenukero!" plus 5 more new songs.
To support their new album Arashi will embark on a live tour "Arashi LIVE TOUR Popcorn" hitting all the major dome stadiums. They'll have 16 performances beginning November 16th at the Kyocera Dome Osaka. Complete tour dates follow after the release details.
Album "Popcorn" comes in two editions,
– Limited (First Press) CD-only that features special packaging and bonus (details to be announced).
– Regular CD-only.
Cover jackets and full track list (updated) will be announced so check back at Comtrya Sugoi for updates.
Arashi – "Popcorn" – release date October 31st 2012
Limited [CD+DVD] (¥3100)


Regular [CD] (¥3100)


[CD]

1. Welcome to our party
2. Kakenukero!
3. Wild at Heart
4. Face Down
5. We wanna funk, we need a funk (Jun Matsumoto)
6. two (Satoshi Ohno)
7. Waiting for you
8. Rakuen (Masaki Aiba)
9. Tabi wa Tsudzuku yo
10. Sore wa Yappari Kimi Deshita (Kazunari Ninomiya)
11. Meikyu Love Song
12. Your Eyes
13. Fly on Friday (Sho Sakurai)
14. Cosmos
15. Akashi
16. Up to you

[CD]

1. Welcome to our party
2. Kakenukero!
3. Wild at Heart
4. Face Down
5. We wanna funk, we need a funk (Jun Matsumoto)
6. two (Satoshi Ohno)
7. Waiting for you
8. Rakuen (Masaki Aiba)
9. Tabi wa Tsudzuku yo
10. Sore wa Yappari Kimi Deshita (Kazunari Ninomiya)
11. Meikyu Love Song
12. Your Eyes
13. Fly on Friday (Sho Sakurai)
14. Cosmos
15. Akashi
16. Up to you
Arashi LIVE TOUR Popcorn
– Nov 16th 4pm Kyocera Dome Osaka
– Nov 17th 8pm Kyocera Dome Osaka
– Nov 18th 4pm Kyocera Dome Osaka
– Nov 30th 6pm Sapporo Dome
– Dec 1st 6pm Sapporo Dome
– Dec 2nd 4pm Sapporo Dome
– Dec 7th 6pm Yahoo! Japan Dome Fukuoka
– Dec 8th 6pm Yahoo! Japan Dome Fukuoka
– Dec 9th 4pm Yahoo! Japan Dome Fukuoka
– Dec 13th 6pm Tokyo Dome
– Dec 14th 6pm Tokyo Dome
– Dec 15th 6pm Tokyo Dome
– Dec 16th 6pm Tokyo Dome
– Jan 11th 2013 6pm Nagoya Dome
– Jan 12th 2013 6pm Nagoya Dome
– Jan 13th 2013 4pm Nagoya Dome
Arashi Official website (Johnny's Net)
Arashi Official website (J-Storm)