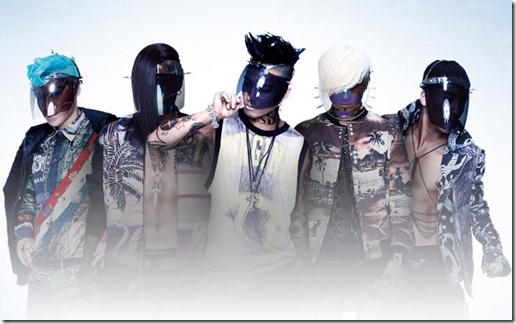 BIGBANG is releasing a DVD set of their activities for their Korean mini-albums "ALIVE" and "ALIVE -MONSTER EDITION-". The set titled "BIGBANG's ALIVE 2012 Making Collection" comes on 5 DVDs which feature on-air performances from various music shows, interviews, and loads of behind the scenes footage. The release had previously been scheduled for August 8th but now has been pushed back to hit stores on August 22nd.
~ updated jacket covers ~ details and a music video follow.
BIGBANG released their 5th mini-album "ALIVE" in Korea on February 29th and Japanese version on March 28th – more details are here. The group then released a revised version "ALIVE -MONSTER EDITION-" in Korea on June 6th and a Japanese version on June 20th. More details on the Japanese release is available in a previous post along with a preview of the Japanese version music video.
Also previously posted are previews of the Korean version music video "MONSTER" and making-of footage – jump here.
"BIGBANG's ALIVE 2012 Making Collection" covers many of their activities in Korea for promoting and producing mini-album "ALIVE". The DVD's cover their performances on TV Program SBS Popular Song, their own YG on Air, and Naver TVC. Also a lot of off-shoot behind the scenes footage from recording sessions, music video production, dance choreography, and advertising promotions.
Enjoy the preview music video for "FANTASIC BABY" Japanese version at bottom of article…
Cover jackets are updated -  box cover and DVD 1,2,3 cover and DVD 4, 5 cover.
BIGBANG – "BIGBANG's ALIVE 2012 Making Collection" – release date August 22nd 2012
DVD Collection [5xDVD] (¥10500)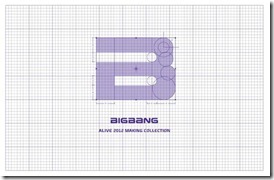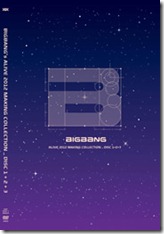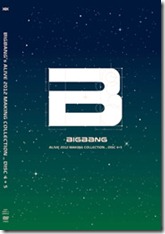 [DVD1] YG on Air Performances
1. BAD BOY (Band ver. & Dance ver.)
2. LOVE DUST (Band ver. & Dance ver.)
3. BLUE (Band ver. & Dance ver.)
4. FANTASTIC BABY (Band ver. & Dance ver.)
5. AIN'T NO FUN (Band ver. & Dance ver.)
6. WINGS (Band ver. & Dance ver.)
7. Making-of footage

[DVD2] 
1. BAD BOY + BLUE (making of music video)
2. FANTASTIC BABY (making of music video)
3. MONSTER (making of music video)
4. BLUE (YG on Air re-edit ver.)
5. FANTASTIC BABY (YG on Air re-edit ver.)

[DVD3] Behind the scenes
1. ALIVE Recording sessions
2. Photo Shoot
3. Dance choreography
4. Visit Korea Year TVC
5. BIGBANG X Hyundai Card
6. ALIVE with BIGBANG TVC Naver
7. TVC Interview
8. TVC Off-shoot footage
9. Naver TVC Full version

[DVD4] SBS Popular Song Performances
1. Intro + BLUE
2. BLUE (x2)
3. BAD BOY (x6)
4. FANTASTIC BABY (x7)

[DVD5] SBS Special
1. Interview
2. You & I
3. TONIGHT
4. BLUE
5. BAD BOY
6. FANTASTIC BABY
7. LIE
8. BIGBANG's come back interview
BIGBANG Official website (YG Entertainment)