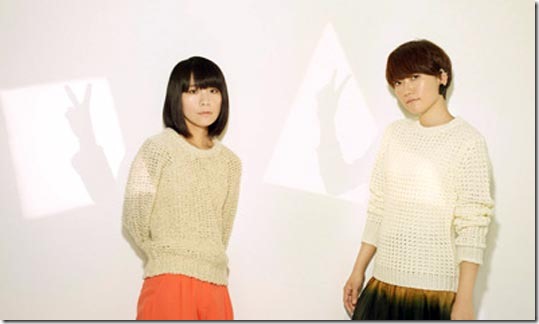 chatmonchy has updated the release details on their new original album "Henshin" – cover jackets and full track list are revealed. Album "Henshin" is their 5th and includes five singles they released in 2012 plus 7 additional songs for 12 total tracks. Collaborating as engineer on the album is Jim O'Rourke (ex. SONIC YOUTH) helping chatmonchy's sound explode with rich content. The album's title translates as "Transformation" which signifies the band's past year as they re-launched as a two-member band. Read on for the updated release details.
chatmonchy released a compilation album on February 15th 2012 that covered their hit songs between 2005-2011 which marked a change in the band as drummer Takahashi Kumiko retired in September 2011. More details on this album are here. Going forward in 2012 chatmonchy is transformed as a two-member band of Hashimoto Eriko and Fukuoka Akiko.
Fans can see chatmonchy performing live at Fall music festivals including the upcoming TV Asahi Dream Festival 2012 at SHIBUYA-AX and Yoyogi National Gymnasium October 6th thru 8th. More details on tickets and other artists available at the event's Official website (link at bottom).  They'll also be performing at Koyabu Sonic 2012 festival in Osaka September 29th and at Kinema Club Tokyo October 8th.
chatmonchy has announced a Winter tour – "chatmonchy TOUR 2013" – with 10 performances beginning January 13th at Zepp DiverCity Tokyo and ending February 17th at Naemura Hall Okinawa. More details and tickets information is available at their website (link at end).
Album "Henshin" includes five singles released in 2012 year – "Convenience Honeymoon" which released a few days ago on September 12th, "Kira Kira Hikare" a collaboration with ASIAN KUNG-FU GENERATION (July 4th), "Hatena" (May 2nd), "Mangetsu ni Hoero", and "Thermae Roman" featured as theme for anime Thermae Romae (Feb 8th).
chatmonchy – "Henshin" – release date October 10th 2012
Limited [CD+DVD] (¥3500)


Regular [CD] (¥3060)


[CD]
1. Henshin
2. Hatena
3. Thermae Roman
4. Shoujo
5. Convenience Honeymoon
6. Yes or No or Love
7. Hatsuhinode
8. Aruku Objects
9. Kira Kira Hikare
10. Futari, Jensei, Jiyugaoka
11. Utatane
12. Mangetsu ni Hoero
[DVD] (studio live)
1. Kira Kira Hikare  
2. Hatsuhinode
3. Convenience Honeymoon
4. Yes or No or Love
5. Utatane
[CD]
1. Henshin
2. Hatena
3. Thermae Roman
4. Shoujo
5. Convenience Honeymoon
6. Yes or No or Love
7. Hatsuhinode
8. Aruku Objects
9. Kira Kira Hikare
10. Futari, Jensei, Jiyugaoka
11. Utatane
12. Mangetsu ni Hoero
Koyabu Sonic 2012 Official website
chatmonchy LIVE event schedule