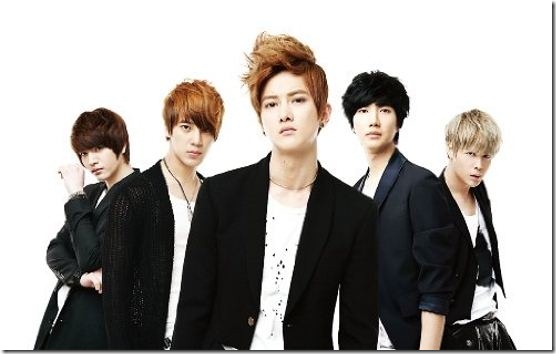 Korean group Choshinsei (Supernova) has updated the details on the now titled "Stupid Love / COME BACK TO ME" their come-back single and the first in nearly two years. We previously released early details on the single here. The single now a double-A side has track "Stupid Love" which is also released a their new Korean single and is a powerful dance song. The second A-side song "COME BACK TO ME" is an original Japanese song and featured as ending theme of TV Tokyo drama 'Koisuru Maison ~Rainbow Rose~' and staring member Geonil. Single is set for release on May 23rd – more details follow,
Even though this will be Choshinsei's first single in nearly two years member Yoonhak released a solo single "Again" a few weeks ago on March 21st. Through 2011 the group's members were more focused on solo projects and TV drama acting.
The double-A single is offered in two editions: a Limited with bonus DVD that has off shoot footage for the cover shoot and recording sessions; and a Regular CD-only edition. First Press is available on both editions and adds a poster.
Check back to Comtrya Sugoi for updated details when announced.
Choshinsei (Supernova) – "Stupid Love / COME BACK TO ME" – release date May 23rd 2012
Limited [CD+DVD] (¥1680)


Regular [CD] (¥1100)


[CD]
1. Stupid Love
2. COME BACK TO ME
3. Stupid Love (off vocal)
4. COME BACK TO ME (off vocal)
[DVD] 
1. Recording single (off shoot)
2. Jacket photo shoot (off shoot)
[CD]
1. Stupid Love 
2. COME BACK TO ME
3. Stupid Love (off vocal)
4. COME BACK TO ME (off vocal)
Choshinsei Official website (Japanese)
Choshinsung Offical website (Korean)