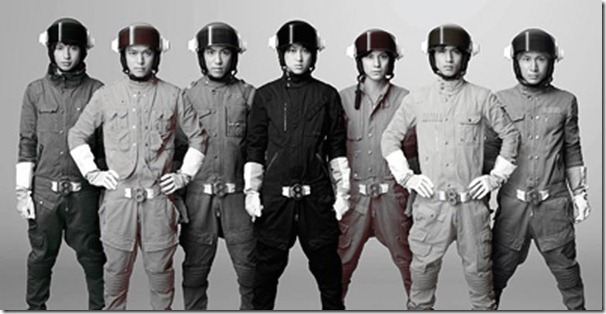 The boys from KANJANI8 have announced their 3rd single of 2012 "Aoppana" which will be featured as main theme song for TV drama "Boys On the Run". The title song is written by Masuko Naozumi and composed by Kamiharako Tomoyasu (Dohatsuten). The single is offered in 2 editions and hits stores September 5th – more details follow…
~ jump for updated release details ~
Tie-in with this single TV drama "Boys On the Run" airs on TV Asahi Fridays and stars member Maruyama. The full group stared in futuristic movie Eight Ranger that used their 2nd single of 2012 "ER" as the main theme song. The release was under the credit of Eight Ranger with the tie-in to movie and part of their 8th anniversary celebrations. The single just released on July 25th and charted #1 on the weekly Oricon charts.
New single "Aoppana" which translates as green-snot (hanging from a child's nose) comes in two editions,
– Limited with bonus DVD that includes the music video and making-of footage for the title track.
– Regular CD-only with bonus of 2 additional coupling tracks and karaoke versions of all songs for 8 total tracks.
A bonus photo booklet is available at time of purchase at selected stores when purchasing both the Limited + Regular editions.
Details are still early – cover jackets and other possible bonuses will be announced so check back to Comtrya Sugoi for updates.
KANJANI8 – "Aoppana" – release date September 5th 2012
Limited [CD+DVD] (¥1470)


Regular [CD] (¥1000)


[CD]
1. Aoppana
2. Hana de Are
[DVD]
1. Aoppana (music video)
2. Aoppana (off shoot)
[CD]
1. Aoppana
2. Hana de Are
3. 8-Nen Mono
4. Onboro Story
5. Aoppana (off vocal)
6. Hana de Are (off vocal)
7. 8-Nen Mono (off vocal)
8. Onboro Story (off vocal)
KANJANI8 Official website (Teichiku records)