December 14, 2012
-
toyNN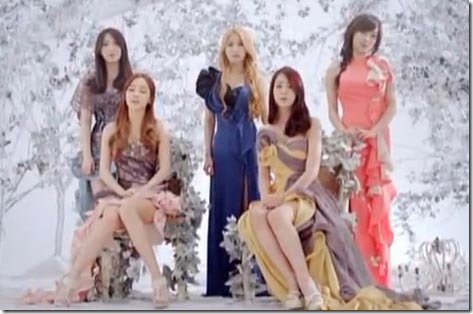 KARA has exposed a new short version music video for song "Orion" from their 3rd Japanese album "Girls Forever". The album released on November 14th and includes their Japanese singles, "Speed Up", "Girl's Power", new single "Electric Boy" (Oct 17th), plus updated versions other singles of "Winter Magic" and "Jet Coaster Love" and bonus tracks for 15 total tracks. The music video and release details on the album follow.
KARA has announced they will get animated! The girls will get their own anime KARA THE ANIMATION which is scheduled for Spring 2013. The anime is scheduled for 5 episodes with each featuring one group member – Nicole, Jiyoung, Gyuri, Seungyeon, and Hara. KARA will also provide the theme song for the anime with a yet to be announced new single. More details here.
KARA has been busy with releases this last half of 2012- their album "Collection" released on September 5th which features member solos of songs preformed in Japanese during their 1st JAPAN TOUR 2012 KARASIA and a new version of song "GO GO Summer! 2012!". Their newest Japanese single "Electric Boy" release October 17th and hit #2 on the weekly Oricon charts.
In Korean they released their 5th Korean mini-album "PANDORA" on August 22nd and digital download of single "Pandora" via Rekochoku for smart phones in Japan (link at bottom).
KARA had a simultaneous release with the album "Girls Forever" – "KARA 1ST JAPAN TOUR 2012 KARASIA" on Blu-ray & DVD that captures their performance at the Saitama Super Arena also released November 14th.  More details on the release is here.
KARA's album "Girls Forever" which hit #2 on the Oricon weekly album charts comes in three editions,
– Limited A with bonus DVD that includes 3 music videos, live performance and off-shoot footage.
– Limited B with bonus deluxe photo book 28-pages.
– Limited C CD-only.
All Limited editions include the 5 bonus tracks though supplies are limited on type-C which will revert to a Regular edition when supplies run out.
Enjoy the short version music video for "Orion" below the release details…
KARA – "Girls Forever" – release date November 14th 2012
Limited A [CD+DVD] (¥3980)


Limited B [CD] (¥3500)


[CD]
1. Electric Boy
2. Speed Up
3. Girl's Power
4. Gimme Gimme
5. Shake It Up
6. Innocent Girl
7. Oops!
8. Kiss Me Tonight
9. Rock On
10. Orion
11. Jet Coaster Love 2012
12. GO GO Summer! 2012
13. Winter Magic 2012
14. Jumpin' (remastered)
15. Mister (remastered) 
[DVD]
1. Electric Boy (close-up ver.)
2. Speed Up (director ver.)
3. Girl Power (close-up ver.)
4. CM collection
5. 1st JAPAN TOUR 2012 KARASIA (off shoot)
6. Album photo shoot
[CD]
1. Electric Boy
2. Speed Up
3. Girl's Power
4. Gimme Gimme
5. Shake It Up
6. Innocent Girl
7. Oops!
8. Kiss Me Tonight
9. Rock On
10. Orion
11. Jet Coaster Love 2012
12. GO GO Summer! 2012
13. Winter Magic 2012
14. Jumpin' (remastered)
15. Mister (remastered)
[bonus]
Photo book 36-pages
Limited C [CD] (¥3060)


[CD]
1. Electric Boy
2. Speed Up
3. Girl's Power
4. Gimme Gimme
5. Shake It Up
6. Innocent Girl
7. Oops!
8. Kiss Me Tonight
9. Rock On
10. Orion
11. Jet Coaster Love 2012
12. GO GO Summer! 2012
13. Winter Magic 2012
14. Jumpin' (remastered)
15. Mister (remastered)