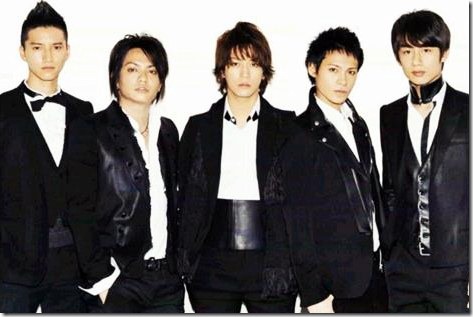 ~ Updated release details posted here! ~
KAT-TUN has announced their first single of 2012 – "TO THE LIMIT" – with a strong rock sound. The single will be the group's 18th since their label debut in 2006 and all previous singles (and albums) have charted #1 on Oricon for its opening week. Two editions are offered for the new single which is set to hit stores on June 27th. The early release details follow,
"TO THE LIMIT" comes in two editions:
– Limited with bonus DVD that includes the music video and behind the scenes making-of footage for the title track. Coupling track isn't yet announced.
– Regular CD-only with bonus track "SPIRIT" which is featured as the theme song Nippon TV baseball show 'Dramatic Game 1844' and TV series 'Going! Sports & News' and the off vocal versions of each track. First coupling track isn't yet announced which will be different from the coupling track on the Limited edition.
No news yet on First Press versions or additional bonuses.
KAT-TUN's first release of 2012 was their 6th album "Chain" (release details).
Release details are still early – full track list and cover jackets aren't yet official – check back to Comtrya Sugoi for updates.
KAT-TUN – "TO THE LIMIT" – release date June 21st 2012
Limited [CD+DVD] (¥1470)


Regular [CD] (¥1100)


[CD]
1. TO THE LIMIT
2. coupling A (to be announced)
[DVD]
1. TO THE LIMIT (music video)
2. TO THE LIMIT (off shoot)
[CD]
1. TO THE LIMIT
2. coupling B (to be announced)
3. SPIRIT
4. TO THE LIMIT (off vocal)
5. coupling B (off vocal)
6. SPIRIT (off vocal)